Scott Booth wants a noisy home support for Glasgow City's Champions League tie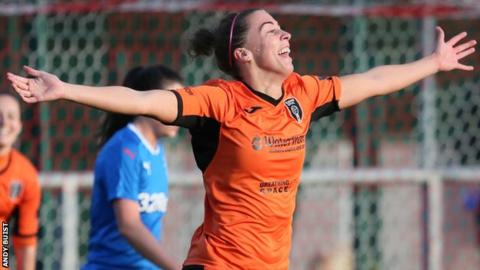 Glasgow City head coach Scott Booth has called for the public to get behind his team as they bid to overturn a 3-0 deficit against BIIK-Kazygurt.
City face the Kazakhs on Thursday in the last 32 of the Uefa Women's Champions League, and Booth believes a noisy crowd can give them the same boost Kazygurt had in the first leg
"The support is really important. It was a massive factor over there in Kazygurt," Booth told BBC Scotland.
"We really need it."
Following a gruelling 4200-mile trip, the visitors matched the full-time hosts in the opening 45 minutes, but Kazygurt scored three quick goals shortly after the interval and City could not find a reply despite some good pressure.
It leaves Booth's side facing last-32 stage elimination for the third year running.
He said ahead of the Petershill Park tie: "They (Kazygurt) had a good support behind them. Whenever they got forward you could hear the fans behind them and they were encouraged by that.
"We need that same type of support here at Petershill and I really hope people turn out and support what is at the moment the best team in Scotland. We need people to acknowledge that and come and help the girls to go that stage further."
City dominated large parts of the clash at the Namyz Stadium in Shymkent, but failed to score a vital away goal.
However Booth, whose side have scored 22 goals without reply in their last seven domestic games, feels they have the players to turn the tie around.
"Despite the fact that we're 3-0 down I'm still looking forward to the game and that's because we feel that we've got to make up for the result over there," said Booth, who is in his third season at City.
"We know it's going to be tough, but we feel that if we can put them under enough pressure early in the game then we can score against them and see where that takes us.
"They created three chances, we only made three errors defensively. What we've done is given ourselves a real uphill struggle, but at the same time if they can score three in 12 minutes then we have 90 to score three."
City's opponents are certainly not writing the Scottish champions off. They arrived on Saturday, five days before the game, and took in the 5-0 Scottish Cup semi-final win over Forfar Farmington on Sunday.
Booth said: "It just shows that they're taking this game really seriously despite already being 3-0 up. So I think they still understand that we are a threat. I think that's a compliment.
"I've had a few big challenges. The Champions League is just different. It's something that we look forward to so much every season."