Joe Allen: Stoke City hope Wales midfielder is fit following concussion scare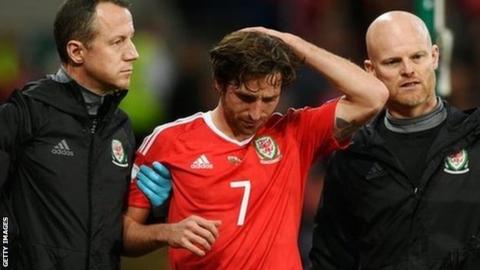 Stoke City hope Wales midfielder Joe Allen will be fit to face Manchester City on Saturday after his concussion scare on international duty in Cardiff.
Allen was led off feeling groggy after 35 minutes of Monday's 1-0 World Cup qualifier loss to the Republic of Ireland, a turning point in the game.
Stoke are following the standard protocol of dealing with head injuries.
"Everybody saw what happened, but you can't make judgements too early," said assistant manager Mark Bowen.
"We're trying to play it the best way we can. He came off with a bang but, fingers crossed, we're hopeful for the weekend," he told BBC Radio Stoke.
"Wales set up to dominate possession and the absence of Joe then unbalanced them."
Allen's injury came when he was sandwiched between Republic goalscorer James McLean and team-mate David Meyler.
"If they have targeted him, they have done a good job," said Wales manager Chris Coleman. "But there are no complaints from me."
Bowen and fellow Welshman Mark Hughes, Stoke's manager, now hope 27-year-old Allen will be fit to play in Saturday afternoon's Premier League game at Eastlands.
"At this stage, there's protocol to follow," added Bowen. "We'll do that, consulting with the doctors and the medical team. We'll take it six to 12 hours at a time.
"We'll probably look to have him back in the training ground on Wednesday, possibly even Thursday."
I hope Coleman stays in charge - Bowen
Mark Bowen was an established Wales international when they last came close to making the World Cup finals under Terry Yorath 24 years ago, only to fail at the final hurdle at home to Romania.
He won 41 caps and then had two separate spells as part of the Wales coaching set-up under Mark Hughes, who he has since worked for at Blackburn Rovers, Manchester City, Fulham, QPR and Stoke.
Now, he is hoping the Euro 2016 semi-finalists now stick with the existing management, despite their failure to reach Russia 2018.
"I just hope Chris Coleman stays in charge now," added Bowen. "He has a great relationship with the players and I hope he now goes on to the (2020) Euros.
"It wasn't a great game. Not a great footballing spectacle. One mistake was probably always going to be the outcome. But the Irish took their goal very well and good luck to them."
Mark Bowen was talking to BBC Stoke's Matt Sandoz