Gordon Strachan future: Scotland should 'scour planet' before coach decision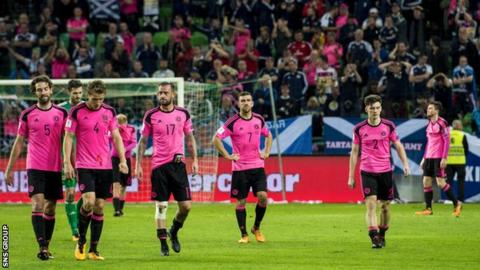 Scotland "need to scour the whole planet" before making a decision on the future of Gordon Strachan, according to former international Michael Stewart.
The 60-year-old coach would not be drawn on his position after the failure to reach the World Cup play-offs.
Strachan's contract expires next month and the Scottish FA is expected to take time to consider the next step.
"It shouldn't be solely down to the manager to make up his mind about staying or going," said Stewart, 36.
"It's a difficult choice to make; there should be time for reflection. The SFA needs to be making a decision here as well," Stewart told BBC Scotland.
Having picked up just four points from their opening four games, Scotland finished the qualifying campaign for Russia 2018 on 18 points after going unbeaten in their final six matches.
However, Sunday's 2-2 draw in Slovenia meant losing out to Slovakia on goal difference in the race for second place behind Group F winners England.
The case for Strachan to stay
Strachan took over almost five years ago and Kris Boyd would like to see him remain.
"There's no question he's the man," said the 34-year-old Kilmarnock striker, who won 18 caps for Scotland.
"There's been an upturn in results and the players all want to play for him. I don't see any players unhappy under Strachan."
The case for Strachan to go
But another former Scotland forward, Steven Thompson, wants a search to start for the nation's ninth manager since the resignation of Craig Brown in 2002.
Brown was in charge when Scotland last featured at a major tournament; the 1998 World Cup in France.
"It's time for him to go," said Thompson, 38. "He's had two campaigns where he's failed to take us to a major finals, which was his remit."
Stewart was capped by Berti Vogts, the only foreign manager Scotland has had, but the German World Cup winner's 31-game spell came to an unhappy end 13 years ago.
"I'm not buying the argument that there's nobody better [than Strachan]," added the former Manchester United, Hearts and Hibs player.
"We have to be open-minded about it being a non Scot; we need to scour the whole planet."
And Boyd agreed that all options should be explored if Strachan moves on, saying: "I think now there might be a case for a foreign manager, the country would buy into it."
'His stubbornness has been a factor'
Stewart admitted being "torn" over Strachan but was critical of the manager's team selections at the start and finish of another fruitless campaign.
"He's a very good manager and he must take huge credit for the turnaround in the campaign," he said.
"But at same time, his stubbornness has been a factor in us not getting to the play-offs.
"He was behind the curve when it came to the striker position. The whole country was saying 'Leigh Griffiths has got to start'.
"It came to Wembley and what seemed like it was going to be his final game and it was like a last throw of the dice.
"We lost but we genuinely looked like a team that could cause problems, whereas against Lithuania and Slovakia we looked a shadow of the side from the start of the previous campaign.
"He eventually succumbed to the collective will of the country and he couldn't ignore the improvement.
"As soon as he put the Celtic core in, that's when fortunes turned."
Injuries deprived Scotland of captain Scott Brown and his fellow Celtic midfielder Stuart Armstrong for the closing double-header.
"He didn't go like-for-like and that was a crucial mistake," said Stewart of Strachan's midfield choices against Slovakia and Slovenia.
"Armstrong drops out, you lose energy, drive and athleticism. That has been such a hallmark of the revival, so you try to replace that. It's staring you in the face; John McGinn - that's what his game is all about."
Brown was also absent for the poor start to qualifying before reversing his decision on international retirement.
"Scott Brown was pivotal after his return," said Boyd. "He would have made a big difference in these last two games."
Following the draw in Ljubljana, Strachan made headlines when he spoke of Scotland being "genetically behind", pointing out a disparity in height and strength.
"Nonsensical," was the blunt reaction from Thompson, while Boyd said it was "a deflection" after a painful evening.
Stewart asked: "Was that the reason we haven't qualified? It's nothing to do with small players. Get your best players on the pitch; it's as simple as that."