Gordon Strachan: Is genetics to blame for Scotland's World Cup play-offs failure?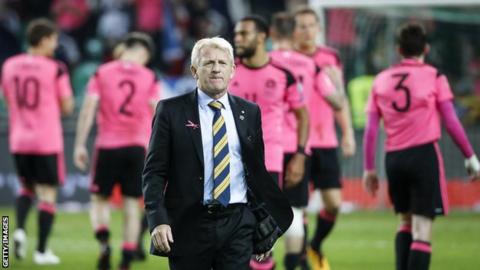 "Genetically, we are behind," said Scotland manager Gordon Strachan after his side missed out on a World Cup play-off place on Sunday.
But is Strachan's claim backed up by fact?
The Scotland boss said that while Sunday's opponents Slovenia might not have been technically superior, they had the "height and strength" that the Scots were unable to combat.
Statistics looking at the top 50 teams in the world during 2015 show that world and European champions Spain were the shortest, Scotland second and Portugal, who went on to win Euro 2016, third shortest.
Of the top-10 tallest sides in the world, the only World Cup winners to feature were Germany. The list is topped by Serbia, who lead Wales and Republic of Ireland in World Cup qualifying Group D. But the top 10 also features Bosnia-Herzegovina, Hungary, Austria and Iceland.
Victory in Ljubljana would have made the Scots one of the eight best second-placed finishers, but Slovakia edged them out on goal difference following the 2-2 draw.
Former Scotland striker Steven Thompson criticised Strachan. "He's had two campaigns where he's failed to take us to a major finals which was his remit when he was brought to the national team as manager," he said. "His comments, saying it was all down to genetics that we didn't qualify, are completely nonsensical."
Strachan, who is 5ft 6in tall, suggested: "Maybe we get big women and men together and see what we can do."
However, some Scotland fans disagree.
We have dug out eight of the best reactions to Strachan's explanation...
1. The Scotland manager made 50 appearances for his country, helping them qualify for three major tournaments.
2. Many pointed out height hasn't hindered other national sides...
3. Twitter user Oldfirmfacts has accrued a following by posting cheeky 'fake Strachan quotes', but this one wrote itself...
4. BBC commentator Andrew Cotter - a proud Scot - seemed to be trying the Strachan technique to get out of chores around the house...
5. People gave a few examples of just how "genetically behind" Scottish athletes are...
6. BBC golf presenter and Scotland fan Eilidh Barbour made a good point...
7. Would Diego Maradona have made a difference in Strachan's side? Would he even have made the squad?
8. When you break it down, it all makes sense...
Read more from World Cup qualifying