Billy Kee: Accrington Stanley striker extends deal until 2021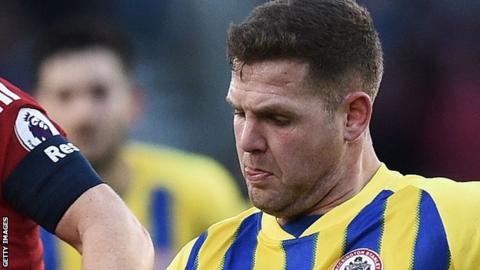 Striker Billy Kee has extended his contract with Accrington Stanley until the summer of 2021, a three-year addition to his existing deal.
Kee, 26, is in his second spell with Stanley and has scored 49 goals in 155 games for the club in total.
The Loughborough-born forward re-joined the club from Scunthorpe in June 2015, five years after his initial loan spell from first club Leicester City.
"If it wasn't for this club I wouldn't be in football anymore," Kee said.
"Thanks to the gaffer (John Coleman), Jimmy (Bell) and owner Andy Holt. This is the most settled I have been and it's where I play my best football. To get this deal sorted means the world to me."
Coleman added: "Too many times players who have done well for have us have seen their contracts out knowing they will be coveted by other teams in the league.
"I think we are the best club for Billy at this stage of his career, and his life, and we do handle him the best."