Morecambe's financial future 'secure for at least two years', says G50 Holdings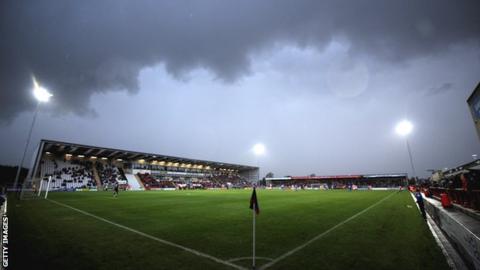 Morecambe's financial future is secure for at least the next two years, says Graham Burnard, who represents majority shareholder G50 Holdings.
Funding has been guaranteed to the English Football League by former co-chairman Abdulrahman Al Hashemi, who is based in Qatar.
However, the Shrimps remain up for sale, should the right investor make an approach to take over.
"We have stability at last," Burnard told BBC Radio Lancashire.
"As long as Abdul is going to put his hand in his pocket everything is good going forward, and he's been nothing but brilliant since we came in here in January.
"He did commit with the EFL, with a letter of support for the next two years. The club is for sale and if the right buyer comes along a credible correct buyer with appropriate funds then the club could be sold."
Burnard continued: "This ground cost more than £9m to build, but half of that would buy it [the club] with ease. But it needs somebody to keep it going like it is now. We keep a tight rein on expenses.
"But as far as we're concerned it's about stability. I see no reason to be concerned at this present moment, everything is running as it should be and has done since we came in."
Jim Bentley's Morecambe side are 21st in League Two with 10 points from 12 league games.