Scotland: Should Gordon Strachan remain as manager?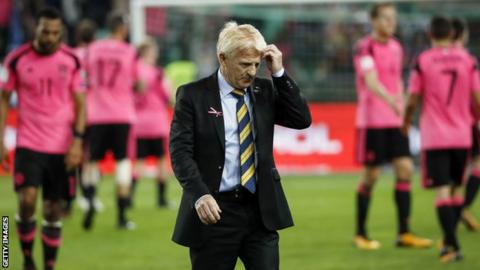 As Gordon Strachan sat down to reflect in front of the media on the unsuccessful World Cup campaign, his initial thoughts sounded very much like a valedictory address.
The Scotland manager spoke of the "honour" of working with his players, of his "pride" in them.
All of it was in the past tense, as if this was the end of an era, the end of his time in charge of the national team. But that's as much of a hint as he was willing to offer about what lies ahead.
He was ready, of course, for the question about his future. His answer was the same as he gave after the 3-0 defeats in Slovakia and at Wembley.
He wasn't thinking about himself, only his players, his staff, the fans and his family.
He'd had to wait about half an hour to even get in the news conference because of the length of time his Slovenian opposite number Srecko Katanec took to deal with questions from the local media and was in no mood to hang around to take more enquiries about his own situation.
Katanec has been hounded out of his role by the Slovenian media after their own failure to qualify. The same cannot be said for Strachan.
Yes, there was a period of criticism of his selections, his tactics and his team's performances early in this campaign, particularly after the home draw with Lithuania and the heavy defeat by Slovakia a few days later.
But he rode that out and ultimately turned results around to the point that many Scots believed victory in Ljubljana was inevitable on the back of a five-game unbeaten run.
There is no doubt he took personal satisfaction in doing so, sticking a metaphorical two fingers up to those who had questioned whether he was the right man for the job.
Even though he and his players were unable to complete an astonishing turnaround by securing a play-off place, he has surely earned the right to be the one who decides his destiny.
Strachan is a popular manager, certainly among his tight-knit band of players, to whom he shows great loyalty that some might say verges on being blind at times.
Alan McRae, the Scottish FA president, is also on record as saying the board wants Strachan to take the country into the Euro 2020 qualifying campaign.
But Strachan, if nothing else, is his own man. His own appetite, or otherwise, for the challenge ahead will be the be-all and end-all.
The Tartan Army, who gave Strachan a rapturous ovation at the end of the previous failed campaign, appear to have cooled considerably in their admiration of the manager, whose win rate of just under 50% is better than anyone apart from Alex McLeish since Tommy Docherty in the early 1970s.
As they applauded the players at full-time there was no reprise of the 'One Gordon Strachan' refrain from Faro two years ago.
And much as the manager loathes any mention of social media, the overwhelming feeling on those platforms following Sunday's draw was one of antipathy towards Strachan, particularly after his statement that genetics were a large factor in Scotland's footballing ills.
Twitter may not be the perfect barometer of public opinion, but there is a sizeable opposition to Strachan being given another campaign.
Indeed, there is an argument that Scotland's recent upturn in results have been despite Strachan's decision-making rather than because of it.
A reluctance to play the in-form John McGinn and to omit the impressive Callum McGregor from the initial squad are the most recent examples of a cautious reliance on more experienced members of the squad.
That is not a flaw per se, but it has become a running theme. Leigh Griffiths and Stuart Armstrong were both introduced to the team months after they had been playing at the top of their game for their clubs.
But Strachan is not one to pay attention to a public clamour for one thing or another.
As long as Scotland were winning - as they were of late - making a strong argument against his decision-making was difficult, if not impossible.
Perhaps in future he will reflect on the ultimately crucial match at home to Lithuania and admit he got the tactics or selection wrong. Or perhaps not.
If he decides not to continue as Scotland manager, the big question is, who replaces him? Who is better equipped to succeed where he and others before him have failed?
The Scottish options are slim. Derek McInnes maybe? Is the time right for such a move for the Aberdeen boss?
Davie Moyes is out of work but has struggled since leaving Everton.
Beyond these shores, Michael O'Neill's name gets a lot of traction. The word is that he would be interested in succeeding Strachan despite having taken Northern Ireland to Euro 2016 and now to a World Cup play-off.
If not O'Neill, the template is the right one - someone with a track record of making a group of players into a team that is more than the sum of its parts. Such coaches are not abundantly available.
Strachan has not failed miserably but the cold fact is he has failed twice. Not many managers get a third chance.