World Cup 2018: Play-off confirmation 'maybe took edge off NI's game' - O'Neill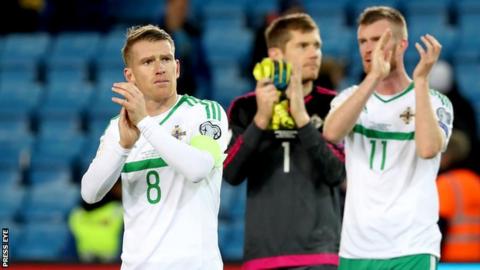 Northern Ireland boss Michael O'Neill says knowing they had sealed a spot in the World Cup play-offs before kick-off "maybe took the edge off" their performance in the 1-0 loss to Norway.
The defeat means they may not be seeded in the play-offs draw on 17 October.
"We got confirmation before the game and it maybe took the tension out of the situation," said O'Neill.
"When we look at the campaign as a whole though it's been a very successful one."
A Chris Brunt own goal gave Norway victory but Northern Ireland were certain of being in next month's play-offs after Scotland could only draw 2-2 in Slovenia earlier on Sunday.
O'Neill's side finished second behind world champions Germany in Group C and go into the play-offs as one of the eight best runners-up from the nine European qualifying competition groups.
The four highest-ranked countries in the Fifa rankings issued on 16 October will be seeded, with either Portugal or Switzerland already certain to be one of those teams, depending on which of them finishes second in Group B.
Northern Ireland currently hold their highest ever position in the standings, 20th, but are likely to slip down the rankings following Thursday's defeat by Germany and the loss to Norway.
"It was hard not to keep an eye on events in Slovenia but our focus was always on ourselves," said O'Neill.
"It was not easy because we have been in a situation of competing against other teams you are not playing against in other groups, which is very complex and tricky.
"Over the last couple of days the players have obviously been looking at all the scenarios as well while you are trying to keep them focused on the game."
Brunt's 71st-minute own goal after goalkeeper Michael McGovern failed to deal with a Stefan Johansen cross proved NI's downfall at the Ullevaal Stadium.
"I'm disappointed to lose the game and it would have been nice to keep another clean sheet but it was a difficult night as the confirmation before the game maybe took a wee bit of the edge off it.
"It was a good thing in the sense that the players who were on yellow cards did not pick up another booking and were able to tip-toe through the game a bit.
"It would have been nice to play a little better but we shouldn't be too down on ourselves as our objective has been achieved. We always felt 19 points would be enough and that proved to be the case."
Northern Ireland must now wait to discover who their opponents will be for the two-legged play-offs, which will take place from 9-14 November.
"We are proud of our achievements so far in making it out of the group and hopefully the footballing gods will be kind to us in terms of the draw," O'Neill added.
"We are a good away team but it may benefit us to play the second game at home. We're not going to win a play-off with two high-scoring games so we'll have to make the games tight.
"We will be the smallest nation of the eight taking part so there will be an expectation among opposing supporters that they will beat us so we can use that to our advantage. We look forward to the draw and the challenge that lies ahead."