World Cup 2018: Lionel Messi's Argentina in danger of missing Russia tournament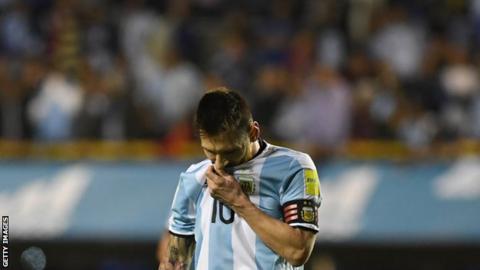 South America consistently produces the most competitive World Cup qualification campaign on the planet, with more strength in depth and fewer easy games than anywhere else.
Brazil flirted with disaster before securing their place in the 2002 World Cup - which, of course, they won. Argentina had a bad time in the 2010 qualifiers but managed to grab the last automatic slot. Uruguay, who had to be content with the play-off position, went on to come fourth in the tournament after finishing fifth in the South American group.
But even bearing all that in mind, Argentina have dug themselves into a hole this time. They go into the final round down in sixth, outside even the play-off spot following a goalless draw against Peru.
On Wednesday (00:30 BST - live text on the BBC Sport website) they are away to Ecuador at the dreaded altitude of Quito, conditions they despise. A win will guarantee a play-off place and might even send them automatically to Russia, but a draw will leave them reliant on other results and a defeat will eliminate them.
There is, then, a real danger that Argentina, Lionel Messi and all, will be missing from the 2018 World Cup.
SA World Cup qualifying - all have played 17 matches
Team
Won
Drawn
Lost
GD
Points
Brazil
11
5
1
27
38
Uruguay
8
4
5
10
28
Chile
8
2
7
2
26
Colombia
7
5
5
2
26
Peru
7
4
6
1
25
Argentina
6
7
4
1
25
Paraguay
7
3
7
-5
24
Ecuador
6
2
9
-1
20
Bolivia
4
2
11
-20
14
Venezuela
1
6
10
-17
9
How did they get themselves into this mess?
The warning lights have been flashing for a while. This is a region where under-20 football is especially important, as Argentina highlighted between 1995 and 2007.
Over that period they won the world title at the level on five separate occasions. More significantly, they produced a conveyor belt of talent for the senior side - indeed, it was at under-20 level that they secured the international future of Messi, who was being courted by Spain.
But when they won Olympic gold in 2008, victorious coach Sergio Batista issued a warning. The standard of youth development work in the country, he said, was in sharp decline. He has been proved correct.
Subsequent Argentina Under-20 sides have been poor, and this has filtered through to the senior team, especially in certain positions. Who was the last genuinely great Argentine goalkeeper, or full-back, or centre-back?
The answer to the last question is probably Roberto Ayala, who retired from international football in 2007. It is almost certainly not a coincidence that since then Argentina have seldom looked like a solid, coherent team.
They have had great days, and managed to reach three finals in three years: the World Cup in 2014, the Copa America the following year and the extra, Centenary Copa in 2016 - all of them lost. But they have become increasingly dependent on flashes of individual brilliance, mainly, of course, from Messi.
In this campaign the dependence on the 30-year-old Barcelona forward has become overwhelming. Of the 17 rounds, he has missed eight - in which Argentina managed just seven points.
He announced his retirement from international football immediately after that third final defeat in July last year, but quickly had a rethink. It is just as well. The three subsequent wins Argentina have enjoyed were almost exclusively down to him. It would hardly be surprising if there are times when he regrets his decision not to retire.
Who is to blame?
Argentina, it must be said, have suffered a significant stroke of ill fortune.
Last year, Bolivia held Chile to a 0-0 draw and beat Peru 2-0. But for the last few minutes of both games they brought on an ineligible player (Paraguayan-born centre-back Nelson Cabrera had been living in Bolivia for three years - long enough to gain citizenship - but Fifa regulations demand a five-year period of residence). Bolivia were stripped of the points they had won, and both games were awarded 3-0 to their opponents.
Without those extra points and goals, both Chile and Peru would be below Argentina in the table. Instead, both are ahead.
But a team that can only score 16 goals in 17 games can hardly complain too much about events that happened elsewhere.
All along, Argentina have looked disjointed, with a lack of defensive pace and an absence of company for Messi. His obvious partner is his old friend Sergio Aguero. Astonishingly, the pair have started only two games together - away and at home against Chile, both victories.
And Aguero, of course, is out of action at the moment. But last month he could not even get off the bench when the team were desperate for a goal against Venezuela.
Coaching changes have not helped. Jorge Sampaoli is the third man to take charge of the team during this campaign. With a track record of producing bold, attacking sides, he may well prove to be an excellent choice if Argentina do manage to make it to Russia. Then he will have time and tranquillity to construct a side. But there are clear problems with throwing him in for the last four rounds.
Sampaoli is a revolutionary, with an attacking model of play which seeks to throw men forward and strangle the opposition in their own half. He enjoyed success with Chile, winning the Copa America with them in 2015.
But trying this with Argentina, whose lack of defensive pace is glaring, always looked like a challenge. With no time on the training field it has been impossible.
In last month's first game in charge, Sampaoli went with a back three and an attacking trident of Messi, Paulo Dybala and Mauro Icardi. Both systems have already been abandoned. There is not enough pace at the back, and the front three barely know each other and have no natural understanding.
Meanwhile, Sampaoli paces up and down his technical area in despair. He has always been the edgy type - he has frequently been sent to the stands for endlessly yelling at the referee - and in the current circumstances his nervousness all too easily transmits itself to a team already under immense pressure.
What is the mood of the nation?
For the final 12 minutes of last month's 1-1 draw at home to Venezuela, Daniel Mollo of Buenos Aires Radio Cooperativa refused to commentate on the game.
He did make reference to one dangerous Venezuela free-kick, but that was it. There was no mention of a chance that Messi carved out for Javier Pastore. Instead, Mollo reeled off a list of great Argentine players of the past, breaking off to lambast the current generation and call on them to beg the people for forgiveness.
This is eloquent testimony of the pressure the players are under, and of the difficulty of having to live up to a glorious tradition.
Failure to qualify for the World Cup would be a painful blow to a proud footballing culture, and an equally painful blow to the financial position of the Argentine Football Association. After a while, though, Argentina could get over it. This is a country where the roots of the game are strongly parochial, where the importance of representing the neighbourhood is paramount.
Fans of River Plate and Lanus, for example, will focus on their upcoming semi-final in the Copa Libertadores, South America's Champions League, while Boca Juniors supporters are already optimistic about the chances of their team in next year's competition.
Will they save themselves?
Quito is one of the last places Argentina would choose to play a game when they need to go looking for a result.
At 2,850 metres above sea level, the lack of oxygen in the air makes a real difference. Even some Ecuadorians feel it. Manchester United's Antonio Valencia, who misses Tuesday's game through suspension, confesses that nowadays he finds it very hard to play in the city where his professional career began. The idea is to run as little as possible - favouring a cautious approach and making it hard to chase the game.
Argentina will have to climb a mountain, both literally and metaphorically. But there are some grounds for optimism.
The early leaders of the campaign, Ecuador have come apart in dramatic fashion, losing their past five matches to fall out of contention for a place in Russia. Coach Gustavo Quinteros was replaced in acrimonious fashion, with Jorge Celico stepping in as a caretaker.
He has named an experimental squad, leaving out some established names and giving a chance to domestically based players. And with Antonio Valencia suspended and former Premier League striker Enner Valencia an injury doubt, resources are further depleted. Argentina's opponents will line up without great cohesion or quality.
But they are likely to attack. In front of their own fans, looking to redeem some honour after the recent defeats, Ecuador may look to take the game to Argentina - which will come as a relief.
Argentina's past three matches - draws against Uruguay, Venezuela and Peru - have all come against opponents who sat back, ran the clock down and frustrated. This should be different. It should be a more open game in which Messi may be able to find more space to save his county once again.
Argentina's World Cup qualifying campaign - the long road to Russia?
8 Oct 2015: Argentina 0-2 Ecuador
13 Oct 2015: Paraguay 0-0 Argentina
13 Nov 2015: Argentina 1-1 Brazil
17 Nov 2015: Colombia 0-1 Argentina
24 March 2016: Chile 1-2 Argentina
29 March 2016: Argentina 2-0 Bolivia
1 Sept 2016: Argentina 1-0 Uruguay
6 Sept 2016: Venezuela 2-2 Argentina
6 Oct 2016: Peru 2-2 Argentina
11 Oct 2016: Argentina 0-1 Paraguay
10 Nov 2016: Brazil 3-0 Argentina
15 Nov 2016: Argentina 3-0 Colombia
23 March 2017: Argentina 1-0 Chile
28 March 2017: Bolivia 2-0 Argentina
31 Aug 2017: Uruguay 0-0 Argentina
5 Sept 2017: Argentina 1-1 Venezuela
5 Oct 2017: Argentina 0-0 Peru