World Cup 2018: Boss Gareth Southgate says England lack 'big players'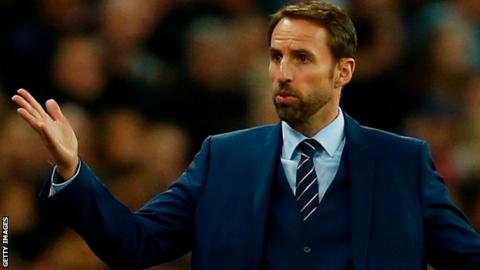 England manager Gareth Southgate says his squad does not contain "big players" because of their lack of success in Europe.
Southgate admits he and the players he will take to next summer's World Cup in Russia still have to prove their credentials at the highest level.
England face Lithuania in Vilnius on Sunday in their final qualifier.
They secured their World Cup place with an uninspiring 1-0 win over Slovenia at Wembley on Thursday.
Southgate is set to experiment with a three-man central defence in Vilnius and Stoke City's Jack Butland will get the chance to challenge Joe Hart after he was named in goal.
England's victory against Slovenia drew scorn from the crowd and was greeted by heavy criticism.
"Are they big players until they win?" said Southgate. "We are talking about big players because of transfer fees, because they are playing in the Champions League.
"When we're in semi-finals, finals, winning trophies, then we're big players. Until that point, we have it all to prove.
"I'm the same as a coach. I don't disassociate myself from that."
In England's current squad, Gary Cahill and Ryan Bertrand were in Chelsea's starting line-up when they won the 2012 Champions League by beating Bayern Munich, while Hart and Raheem Sterling figured for Manchester City when they lost to Real Madrid in the 2016 semi-final.
Chris Smalling was on the bench for Manchester United's Champions League final loss to Barcelona at Wembley in 2011, played in the quarter-final loss to Bayern Munich in 2014 and was in Jose Mourinho's team when they beat Ajax to win the Europa League last season.
"We can't consider ourselves big players," said Southgate. "Big players are Gerard Pique, Sergio Ramos, Sergio Busquets, Toni Kroos, Sami Khedira, Manuel Neuer. You could go on. That is what big players are.
"We create a bubble in our country around the league because of the money, because of the profile of it, but we have it to prove. No problem - these guys are hungry to prove it."
Butland eager to 'punch ticket to Russia'
Butland, meanwhile, is determined to take his chance when he wins his sixth cap against Lithuania, more than five years after making his debut against Italy in August 2012.
The 24-year-old was out of action for more than a year after sustaining a serious ankle injury during England's 3-2 friendly win against Germany in March 2016.
He will play on the ground where he started for England on their most recent visit to Vilnius in October 2015, a 3-0 victory that made it a perfect 10 from 10 for Roy Hodgson's side in qualifying for Euro 2016.
Butland said: "Any opportunity to play for your country is a massive one. I can only do so much at club level so this is an opportunity to show what I can do and punch my ticket for Russia.
He said: "My motivation, my desire is to keep playing and being as good as I can.
"The injury was a big setback for me at a time when I thought there was an opportunity to take the spot. It was tough to miss 16 months.
"I was 19 when I made my debut and a hell of a lot has happened since - ups and downs - but I'm still only 24.
"What's gone has gone. I'm looking forward to being successful for club and country."
Tottenham midfielder Harry Winks and Leicester City defender Harry Maguire - a £17m summer signing from Hull City - are in contention to make their England debuts.
Southgate may also give the highly successful Spurs link of Kane and Dele Alli 90 minutes together in a game he regards as important preparation for the World Cup.
Don't let Kane in the stadium - Lithuania boss
Lithuania manager Edgaras Jankauskas praised England and Tottenham striker Harry Kane, who has scored 14 goals in his past nine games for club and country.
Asked how he would stop the 24-year-old, Jankauskas joked: "The first plan would be to not let him into the stadium.
"We know he is in terrific form and to stop him, well, we have to pay a lot of attention and to use everything we can against such a goalscoring machine."
Jankauskas said he was surprised at England have been criticised for their performances, despite securing World Cup qualification with a game to spare.
"It shows the level the football is at, when they are criticised after winning and qualifying for the World Cup," he said
"In general, criticism is always normal when you have so much media interest and football is so popular. Teams like England are always criticised a bit, even if they win.
"We saw the match and their ability and the goal they scored at the end showed what fitness levels they have."
My England starting XI
Choose who you would pick in the England starting XI in Russia - and then share it with your friends using our team selector.