Slovenia v Scotland: Gordon Strachan's men face 'hard job' to reach play-offs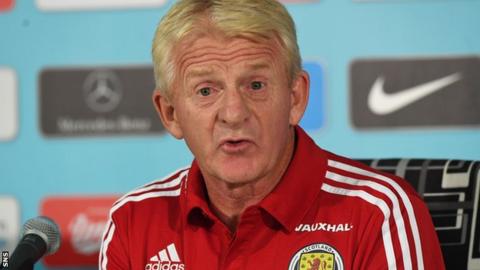 World Cup qualifying: Slovenia v Scotland
Venue: Stozice Stadium Date: Sunday, 8 October Kick-off: 17:00 BST
Coverage: Listen on BBC Radio Scotland; live text commentary on the BBC Sport website
Scotland head coach Gordon Strachan acknowledges his side have "a hard, hard job" to beat Slovenia on Sunday and reach the World Cup play-offs.
The Scots now know victory in Ljubljana guarantees them second place in Group F and, crucially, that they would be one of the eight best group runners-up.
But Slovenia, although virtually out of contention, have not conceded a goal at home during qualifying.
"This is the hardest one now," said Strachan of the task facing his team.
"It's not just at the back (they're good). It's all over the pitch. They're physically strong, technically good.
"From what we've seen so far, it's similar to a 4-4-2, they've got good players up front, they make sure there's very little room in the middle of the park."
Strachan says he's enjoying the build-up to the match but won't try to shelter his players from the hype surrounding the game.
"We know how important it is to everybody because we're getting texts and emails wishing us good luck from friends and people we haven't heard from in a while," he added.
"These players are used to it. It's a big game but I don't think I should shield them from anything. You can enjoy the media frenzy, the excitement of other people.
"The players have had a balance, whether they've had to take body blows or they're giving body blows. You couldn't tell the difference in our camp. They've had a journey to make to get back here.
"Tomorrow the match-day feelings come in. Unless you've been a manager, you've not got a clue what that's like so I won't try to describe it to you. But as soon as you open your eyes in the morning your body knows there's a game on."
Strachan will choose from the same squad that beat Slovakia, minus winger Ryan Fraser, who has returned to Bournemouth with a hamstring problem.
Now he must decide whether to stick with the starting XI that won at Hampden or bring in fresh legs.
"As a manager you think 'what we're doing is working' but that doesn't mean you don't think about freshening things up," he added.
"Sometimes you can sniff who's really ready to go again and the ones who're ready to go, but their body's maybe not at the maximum. But I don't think that's going to be a problem."
My Scotland starting XI
Who would you have in your Scotland starting XI for the game against Slovenia?