Brazil women: Former internationals criticise federation in open letter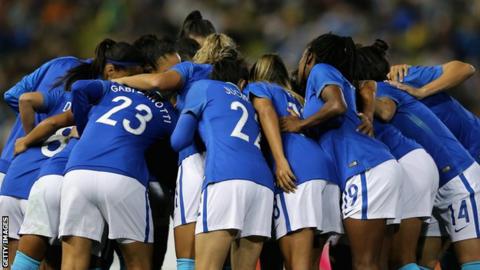 A group of former players from the Brazil women's team has signed an open letter criticising their federation.
The group is unhappy about the dismissal of head coach Emily Lima and other issues within the sport.
Lima, the first woman to coach the national side, lost five times in six games before being sacked last month.
The group says "we, and almost all other Brazilian women, are excluded from the leadership and decision-making for our own team and our own sport".
The letter added "the players have invested years of our own lives and all of our energy to build this team and this sport to its strength today".
Among those to add statements of support for the group to the letter are former England women's manager Hope Powell and ex-Australia international Moya Dodd, a former member of the Fifa Executive Committee.
Following Lima's removal after 10 months in the role, several players quit the national team - and the letter claims this was in protest at her sacking.
Maurine became the fifth Brazilian to retire from the international game last week after Cristiane, Francielle, Rosana and Andreia Rosa - who are all signatories of the latter - hung up their boots.
"I was very upset with Emily's departure," 31-year-old Maurine said in a message posted on social media.
"Things are always in flux at the national side, it's tiring, it wears you out. So I am bringing my time here to an end."
What are the players asking for?
The letter is calling for the Brazilian Football Association (CBF) to abide by international governance reforms put in place by Fifa that mean women must be included at all levels of decision-making, especially on the organisation's board.
It also outlines the need for an overhaul of the CBF's practices to come in line with Fifa reforms and principles.
And it says there are no "meaningful pathways" for former players to find their way into the CBF, and points out that the federation still has no women on its governing board.
"Over many years we have lived and watched in despair as Brazil's women were neglected by CBF," the letter continues.
"The events of the last week - where players' voices were ignored, and some are now retiring in protest - is the result of a long history of lockout.
"While some validly choose to remain inside the team and seek change from within, the fact that players have to make such a choice raises bigger issues."