Scorer Cadden rues hesitant Scotland Under-21s in defeat by England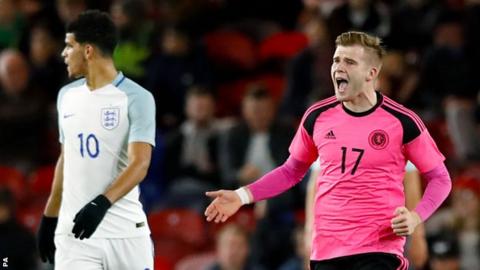 Scotland Under-21 midfielder Chris Cadden was left ruing a hesitant first-half performance in the 3-1 defeat by England in Middlesbrough.
Josh Onomah, Tammy Abraham and Dom Solanke all scored for the hosts, with Motherwell's Cadden getting Scotland's goal when they were 2-0 down.
"We panicked a bit but we started to play in the second half and we looked like a better team," Cadden, 21, said.
"You can't keep giving England possession as they'll wear you down."
Cadden was left with a simple finish in the 78th minute after good set-up play by Lewis Morgan and Oliver McBurnie, but any hopes of a comeback were snuffed out by Liverpool striker Solanke's tap-in a minute later.
"It's always nice on a personal level to get a goal and it's a nice feather in my cap," said Cadden.
"I don't think there's as big a gulf as people think. England have good players and they are getting bought for millions of pounds - you can't switch off against them or they'll hurt you.
"It's like a boxing match - if you take so many punches one is going to be a knockout."
England went top of Euro 2019 qualifying Group 4 with seven points from three games. Scot Gemmill's Scots are fourth with three points from two games and play Latvia in Liepaja on Tuesday.
"The first-half performance was not at the level that we set in the first game against Holland," said Gemmill.
"The players recognised that, we got re-organised and the second half was much more positive.
"We got back into the game and there was that couple of minutes we just needed to really be secure and keep the momentum going, because there was definitely a shift at that point.
"But the players are getting challenged playing at this level. They did it in the first game against Holland and in the second half today after a disappointing first half.
"Today we played the top seeds and now we're going to a team that are perceived to be lower than us in the rankings, so it's a different challenge to go away from home and try to beat a team that will do everything to stop us."