Gary Owers: Torquay United manager hopes to bolster squad with new signings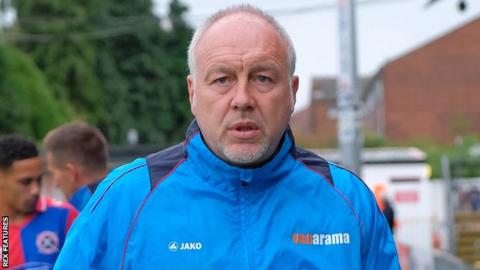 Torquay United manager Gary Owers says he could bring in some new players to bolster his struggling side.
Tuesday's win against Maidenhead was their first of the season, but they remain bottom of the National League.
With seven loan players already Owers says permanent signings are his only realistic option.
"The players that would suit our situation at the moment are out of contract free agents, so I'm exploring that market," he told BBC Sport.
"If I can get a top-quality loan signing in and I can bring him to the club I will do that, but it would be at the expense of someone else unfortunately," he added.
Torquay host second-placed Dover Athletic on Saturday and Owers hopes to bring in fresh talent afterwards.
"I'm trying to get a game arranged that would lead to the possibility of trying to bring in one or two trialists, otherwise there's no point," he added.
"If you're only going to bring them in and see them train it's difficult for them to impress and difficult for me to assess how good they are in comparison to other players, so the game could be key next week."