World Cup 2018: Why Wales and the Republic of Ireland both still believe they can reach Russia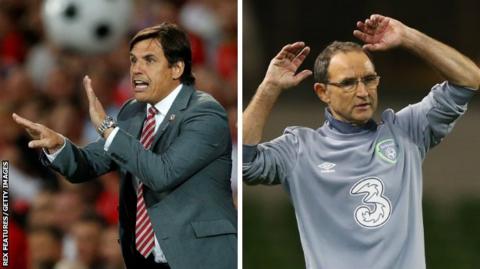 Their target is two wins in four days, and the prize is to stay in the race to Russia - but will it be Wales or the Republic of Ireland who keep their dream alive in Group D?
Leaders Serbia have got one foot in next summer's World Cup finals, requiring one win from their final two matches to secure automatic qualification.
Below them, Wales and the Republic of Ireland are scrapping for the runners-up spot, knowing Fifa's format means they also face the potential agony of missing out on a play-off place even if they do enough to finish second.
For both teams, six points from their last two matches would - probably - be enough to secure both objectives, which means their meeting in Cardiff on Monday is a must-win game for the men in red as well as the boys in green.
Former Wales striker John Hartson and ex-Republic winger Kevin Kilbane look at what will decide which team makes it, and who misses out.
Remaining fixtures for the top three in Group D
Friday, 6 October
Monday, 9 October
Austria v Serbia
Serbia v Georgia
Georgia v Wales
Wales v Republic of Ireland
Republic of Ireland v Moldova
No Bale = no hope for Wales?
It would be easy to think that Gareth Bale's absence from Wales' final two qualifiers with a calf injury signals the end of his side's hopes.
They have not won without the Real Madrid forward since October 2013, when Simon Church's goal gave them a 1-0 win over Macedonia - 31 matches ago.
Hartson was part of Chris Coleman's coaching team for that game and he thinks the Wales manager will give the same message now as he did then.
"Part of what Chris will say to his team is: 'Let's go and prove to everyone that we can win without Gareth,'" Hartson told BBC Sport.
"Chris is always positive. He will say, 'we have not got him, now we have to find a way to do this without him' - and use it to challenge his players.
"Of course they will miss having Bale out there with them, but they will still believe in themselves.
"We have got other match-winners, and we showed that at Euro 2016 as well as in this qualifying campaign."
The news that Bale would be absent was an undoubted boost to the Republic's hopes of finishing above Wales, but Kilbane is wary about whether it will change too much about Monday's match.
"I actually think it will make more difference to how Wales get on in Georgia than it will when we play them," he said.
"It will help us, of course, but it is not the be-all and end-all. Bale played for Wales in Dublin in March [a 0-0 draw] and that was very tight even with him on the pitch.
"I was expecting the same sort of cagey game again before he was ruled out - and I don't think it will change much about the way Republic of Ireland boss Martin O'Neill approaches it."
Wales are finding form - have the Republic lost their way?
Wales do not have Bale, but they do have momentum at last after winning their past two group games, following five successive draws.
The Republic's form has been heading in the opposite direction, with no wins - and only two goals - in their past four matches meaning they have slipped from top spot to third.
"If we don't qualify then when we look back at where we were short, it would be making chances, especially at home," Kilbane explained.
"We have been a threat from set-pieces, which is how we got our last goal against Georgia, but we have not created much overall and it has been the same for a while.
"I think after most games, you come away saying: 'Yes we put up a fight, but where was the quality?' We have got it in this team, but they just have not been producing it.
"The reason I say that is that I know the ability is there. If you look at that brilliant team goal that Burnley scored against Everton last weekend, there were three Republic players who played a key part in it - Robbie Brady, Stephen Ward and, of course, Jeff Hendrick with the finish.
"We have not seen anything like that so far in this qualifying campaign, but now is the time for them to show what they are capable of.
"Along with James McClean, Brady is suspended against Moldova but we should have enough to beat them at the Aviva Stadium anyway - and then they are both back to face Wales.
"McClean has probably been the one player who has given us a spark in attack but one player is not enough to get you to a major finals.
"The Republic need Brady to find his best form in Cardiff and give us some of what we have been lacking in the final third, but we need to seriously improve our attack."
'We expect a battle, but have to get through Friday first'
While the Republic will expect to beat Group D's bottom side on Friday, Wales' first test, in Tbilisi, is a lot tougher.
"We were quite fortunate to come away with a 1-1 draw when we played Georgia in Cardiff," said Hartson.
"We were missing Joe Allen and Aaron Ramsey in midfield but, technically, Georgia are very good. They pushed on after they got an equaliser and we were hanging on at the end - they controlled the game for long periods.
"We know how dangerous they are and they have taken points off every team in the group apart from Serbia [who they play again on Monday], so it is not a foregone conclusion that we will win that game - not at all.
"But Wales are in a fortunate position in that we get two bites at it. Even if that result does not go our way, we can still finish second by beating the Republic.
"Then of course you have the potential issue with the fact that, because we have not won both our games, we are not in the top eight teams that make the play-offs.
"That would be a huge disappointment, but I think the mindset has to be that we are playing for second position in the group before we worry about anything else.
Play-off table
Position/Team
Played
Goal difference
Points
Wales are in ninth place in the play-off table - only the top eight second-placed teams qualify. If the Republic's points tally in Group D was good enough to put them in runners-up spot, they would currently be eighth in the play-off table with 10 points from seven games and a goal difference of +1
1. Portugal
6
+18
15
2. Denmark
7
+7
13
3. N Ireland
7
+5
13
4. Italy
6
+3
13
5. Iceland
7
+3
13
6. Scotland
7
-1
11
7. Sweden
6
+3
10
8. Bosnia
6
+2
8
9. Wales
6
+1
8
"Knowing that group - Coleman, his coaches and players - and how they talk about things, they will be fully focused on the Georgia match and not even thinking about the Republic at all.
"You can see that from the way Coleman has been talking about his players who are a booking away from missing Monday's match. He does not care about that now.
"We know what to expect from the Republic - a battle - but we need to get through Friday first."
The showdown in Cardiff
When the draw was made, many people pointed to the Republic's trip to Cardiff as being decisive and it will be unless Wales win on Friday, and Martin O'Neill's side drop points.
Both teams have got results when it counts in the recent past - while Wales dazzled against Russia and Belgium on their way to the semi-finals of Euro 2016, the Republic beat Bosnia-Herzegovina in their play-off to reach France, then overcame Italy to get out of the group stages there.
Kilbane, who was part of the Republic's squad at their last World Cup finals in 2002, said: "We have got those performances to draw upon now.
"And, right from the start of this campaign, I think if you had offered me a situation where we needed to win in Wales to get a play-off place, I would have taken it.
"It is a tough test, don't get me wrong, because they have got players in their side who are capable of things that our team are not.
"But what happened when we met in Dublin shows it is not insurmountable and our record against Wales in recent years is very good - so I am still optimistic about our chances."
Wales feel the same way, although Hartson is anxious they do not let any more leads slip away.
"We need to keep our focus if we get an advantage in both remaining games," said Hartson. "A lack of concentration really cost us with Serbia's late equaliser in Cardiff, for example.
"But we did that against Austria and Moldova in our past two fixtures when we kept our nerve to win in what were seriously high-pressure situations."
This Wales team is the first to get this far through a World Cup qualifying campaign with a chance of making the finals for 24 years, when Paul Bodin's penalty miss in their final match ended their hopes of reaching the 1994 tournament.
"It is great to be in the mix right at the end," said Hartson, who was part of the Wales side that lost in the play-offs for a spot at Euro 2004. "And qualification is still in our hands, or at least it appears to be.
"Those are the positives, and it is still all to play for - but with Bale's injury it just seems that if it is going to happen, we will do it the hard way.
"Hopefully we will be celebrating something on Monday night, and looking ahead to the play-off draw - I will be happy if I get to worry about those games too."