Celtic: Patrick Roberts aims to improve for Brendan Rodgers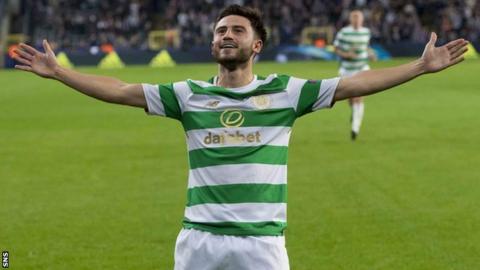 Celtic winger Patrick Roberts aims to repay the faith of manager Brendan Rodgers by becoming a better player.
Rodgers waited through the summer to try to sign Roberts from Manchester City, having had the player on loan last season.
A deal was eventually struck for the 20-year-old to sign another season-long temporary deal.
"[Rodgers] puts a lot of trust in me at such a young age and I strive to repay that," Roberts told Celtic TV.
"He's been good ever since he came here and I can only get better for him," the winger added.
'Haven't set any specific targets'
"The manager knows what I bring, he knows the type of player I am and that's why he's brought me to the club."
Roberts spent 18 months on loan at Celtic before returning to Manchester City last summer, having won four trophies in Glasgow.
He played a role in Celtic's unbeaten domestic campaign, and ended last season with 11 goals and 19 assists in 47 appearances.
Since returning to the club, Roberts has played six times, scoring once and creating three goals.
"I haven't set myself any specific targets," the England Under-21 international said.
"I just want to keep improving as a player and to win as many games as I can, and stages like the Champions League play a big part in that.
"We just look to win the game and to perform well as a team. If we do that, the results will come.
"It's the international break now so some of the lads are going away, when they come back we'll look to kick on from where we left off."