Daniel Farke: Norwich City belief in head coach never changed, says sporting director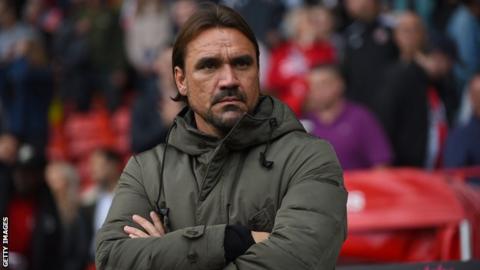 Norwich sporting director Stuart Webber says the club's belief in head coach Daniel Farke "never changed" despite a poor start to the Championship season.
Norwich were 22nd in the table after Farke's first five games in charge following his appointment in May.
But the Canaries have won four and drawn two of their past six games under the 40-year-old to climb to ninth.
"Everyone can see he's done a really good job and it's our job as a club to continue to support him," said Webber.
"I think what Daniel's shown in his time here prior to [the 4-0 defeat by] Millwall - as well as after Millwall - is his ability to be flexible, his ability to read situations, to read the league and understand the league."
Webber was appointed as sporting director in April to help find a replacement for former boss Alex Neil, having previously spent two years as head of football operations at Huddersfield Town.
"I think most pleasing is the way Daniel goes about his work every day with the players, and how humble he is and how respectful he is of the players, the league and the managers we play against," he told BBC Radio Norfolk.
"Lots of people are quick to criticise teams when they get beat; he's the first to say well done.
"After Millwall and Aston Villa away [a 4-2 defeat] there was no dressing it up or blaming anyone, it was very much honest and straight to the point that we'll keep working and get better."