Scotland v Slovakia: Time for a marquee win as Scots chase World Cup dream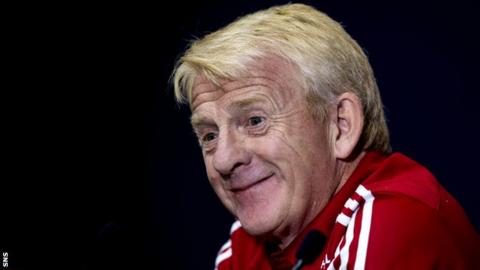 World Cup qualifying: Scotland v Slovakia
Venue: Hampden Park Date: Thursday, 5 October Kick-off: 19:45 BST
Coverage: Listen on BBC Radio Scotland; live text commentary on the BBC Sport website
It's hard to go to a Gordon Strachan press conference these days without thinking back to something he said a year ago, just before this qualification campaign really got going.
Strachan was sitting in Mar Hall hotel, as relaxed as can be. For close to an hour he shot the breeze off the record. Free of a journalistic strait-jacket he was funny - often hilariously so - and insightful about the game and the mad world he has lived in all these years.
When the time came to turn the camera on, he warned that his persona was about to alter. He was asked for his thoughts on dealing with the media in Scotland and he laid it on the line. "It's a battlefield out there," he began.
"People don't realise that it's usually 32 versus one, and the 32 are looking for a headline and I've got to protect my players at all times. It's a bit of a game.
"Sometimes you guys (the media) win and you get that headline that you want and it makes me feel terrible for two days, or I win and you get nothing. I hope at the end of the day we put our hands up and go, 'right, that was a good fight, let's get on with it and I'll see you next week for the next round'."
Strachan wins more of these match-ups than he loses. "After 45 years doing this, you'll find it hard to ask original questions," he said 12 months ago. He's right, it's a game and at Hampden on Wednesday the game continued.
On the eve of a critical qualifier with Slovakia, Strachan, not for the first time, extolled the virtues of Barry Bannan, pointing out the midfielder's recent stellar performances for Sheffield Wednesday, describing him as being "at the forefront of what we're trying to do".
To a day-tripper to the Strachan sideshow, this looked like a clear hint that Bannan will start against Slovakia. And maybe he will. Once you've been around the Scotland manager long enough, though, you know that he throws more curve balls than Sandy Koufax, the Los Angeles Dodgers' curve ball king.
Bannan has drawn much praise of late. Lee Johnson, the Bristol City manager, said that if he could sign one player from a Championship rival, he'd pick Bannan. Thomas Christiansen, manager of Leeds, said that his team had made plans for Bannan ahead of last weekend's meeting in Sheffield. "We spoke about Bannan being a key player we had to stop, but we were not able to do it," he revealed. Wednesday won 3-0. The Scot was outstanding.
The thing about Strachan's comments about Bannan was that they came as part of an answer to a question about two of his other midfielders - John McGinn and Callum McGregor. Strachan has seen the bandwagon forming behind those two since they both scored twice at Celtic Park on Saturday. Strachan doesn't like media bandwagons, so he switches the narrative. It's all part of the game.
Strachan won the press conference - he gave away nothing - but will he win the match? And who will he pick? The midfield is the unpredictable area. Does he go 4-2-3-1? In which case, who are the two (Darren Fletcher and Bannan?) and who are the three (James Forrest, James Morrison and Matt Phillips?).
Or does he go 4-1-4-1, as he has done in this group already? Does he pitch McGinn and McGregor straight in? That would be a popular move among many in the Tartan Army, but giving a debut to McGregor, having left him out of the original squad, and giving a first competitive start to McGinn on such a high-pressure night is not the type of move that Strachan usually makes.
Scotland are not blessed with goals from midfield. Fletcher has scored five times in 87 caps, James McArthur, who has lost his place at feeble Crystal Palace, has four in 30, James Morrison, who hasn't started for West Brom in their past two games, has three in 45, Phillips has zero in six.
If Strachan is looking for somebody to fill that creative, goal-scoring role in the absence of Stuart Armstrong, then McGregor is an interesting one. He's scored six times for Celtic already this season. His career best is seven. Including McGregor also increases the Celtic quota to five. Having a core of Brendan Rodgers' players did Scotland a lot of good in Lithuania. The Celtic Factor might be something that Strachan is thinking of again for Thursday night.
Slovakia are a settled and competent side with a sprinkling of class in the shape of Robert Mak, Adam Nemec and the wonderful Marek Hamsik, who will win his 100th cap at Hampden. Hamsik has scored 114 goals in 463 games for Napoli, one short of Maradona's record. On Wednesday the great Fabio Cannavaro, Italy's 2006 World Cup winning captain, described him as "exceptional".
Scotland are on a nice run, but nothing they have done in racking up 10 points in their past four games can be seen as out of the ordinary. Beating England would have been one of those marquee victories that all teams of Scotland's make-up require if they're going to make the play-offs. Beating Slovakia falls into the same category.
Strachan's team are in a better, more confident place than they were when toiling at Hampden against Lithuania and being routed in Slovakia last year, but the recovery is still a soft one and it needs the ballast of a box-office win.
There's no safety net this time, no opportunity to talk up a draw as a good point. It's win or the dream of a shot at World Cup qualification through the play-offs disappears over the horizon. Again.
It's the type of game that Scotland have to come through successfully if the talk of a revival is to be seen as anything other than a bottle of smoke.