Gerard Pique: I will not be driven out of the Spain team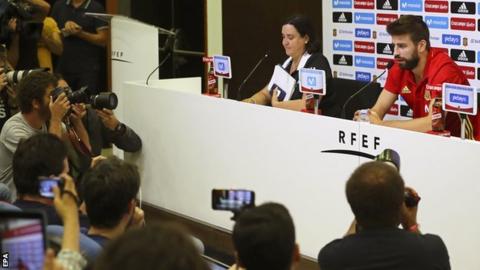 Spain and Barcelona defender Gerard Pique says he will not be driven out of the national team by fans opposed to his public support for the Catalan independence referendum.
The 30-year-old was jeered by some fans at a training session in Alicante on Monday and has said he will retire from Spain duty if the federation wishes.
"It is impossible to put in doubt my commitment," said the centre-back.
"I have been here since the age of 15. I consider this a family."
He added: "I am committed to maximum effort on the pitch and to demonstrate to the people I feel very proud to be in the Spain team."
Pique tweeted a picture on Sunday of him voting in the referendum, which was opposed by Spain's national authorities, together with a message that "together we are unstoppable in defending democracy".
Barcelona beat Las Palmas 3-0 in an empty stadium on Sunday following unrest in the Catalan city, and Pique described it as his "hardest game".
Catalonia, a region of 7.5 million people in north-eastern Spain with Barcelona as its capital, has its own language and culture.
It also has a high degree of autonomy, but is not recognised as a separate nation under the Spanish constitution.
The former Manchester United defender was part of the Spain team that won the World Cup in 2010 and the European Championship in 2012.
He has won 91 caps and scored five international goals.
"To go now would give belief to people who think that the solution is whistling and insult," he added.
"I don't want to go through the back door. This team and all the Spanish federation are my family. I want to continue for them.
"What hurts most are my team-mates. It is an unpleasant situation for them. It would be best that it did not exist."
Pique rejected the suggestion his stance had damaged his relationship with Spain team-mate and Real Madrid captain Sergio Ramos.
The pair have confronted each other several times on club duty and sparred on social media and through the press.
"I get on great with Sergio Ramos. I have repeated that 20 times," added Pique.
Spain play Albania in Alicante on Friday and will effectively qualify for Russia 2018 with a victory given their superior goal difference over nearest rivals Italy.