Alex Morgan: 'Highly impaired' USA striker escorted out of Disney's Epcot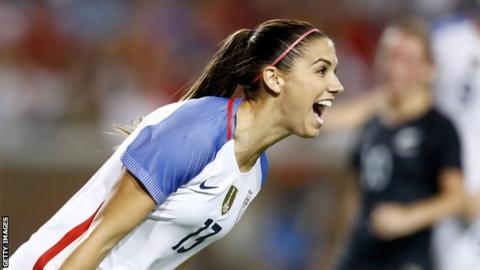 USA striker Alex Morgan and two players from MLS team Orlando City were escorted out of Disney's Epcot Centre by police because they were "impaired and verbally aggressive" in a pub.
A police report obtained by BBC Sport says Morgan, Giles Barnes and Donald Toia, and his wife Courtney, were led out after arguments inside the venue.
Morgan was "yelling and screaming" and stated she knew the Orlando Swat team.
"I want to apologise for my actions," Morgan tweeted on Wednesday.
"I will learn from this and make sure it does not happen again."
The incident with the Orlando Pride player took place on Sunday.
The Orange County Sheriff Office report, filed by officer Armando Harwood, also states that the 28-year-old forward was "highly impaired".
Former West Brom, Derby County and Doncaster forward Barnes, 29, was said to have "cut in front of a guest" in the pub and "had a verbal argument". He was handed a "trespass warning without incident".
Morgan, along with Donald and Courtney Toia, were taken to a conference room where they were detained and then led out of Epcot.