Shaun Harvey: EFL has stopped 'significant number' buying clubs
Last updated on .From the section Football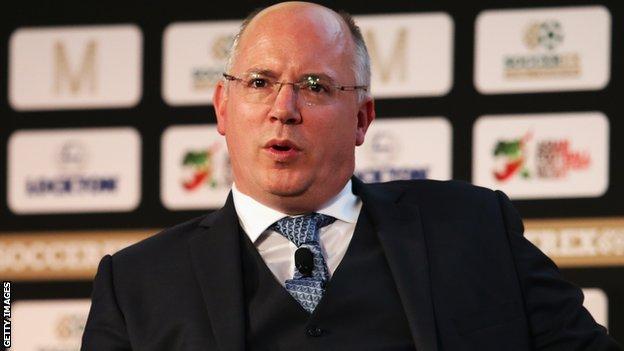 The EFL's rules have stopped a "quite significant" number of people from buying clubs, says its chief executive Shaun Harvey.
Those wanting to buy a club must pass the owners and directors' test, which clubs agreed to tighten up in June.
It is designed to stop people damaging the "image and integrity" of the league and its competitions.
"What the test never gets credit for is how many people it stops from applying to buy a club," Harvey told the BBC.
Speaking to BBC Radio 5 live, the 47-year-old added: "It is only easy to pass if you have not committed any of the acts that mean you would fail it."
"How many people don't come forward to buy a club that otherwise would have done because of the test? I think the number is quite significant.
"They are the ones we are looking to prevent from buying our clubs."
What are the rules?
The test is designed to make sure owners, directors and officers of clubs meet a set of standards which protect football's reputation and image.
The rules apply to anyone wanting to own more than 30% of a club's shares. Any prospective owner cannot have been declared bankrupt or have a criminal conviction.
The Premier League brought in a similar test in 2013.
"The test comes under scrutiny, usually when clubs of fans are unhappy with what is going on," Harvey said.
"There is a fixed set of criteria and if you meet the criteria you are eligible to run that club - and if you don't, then you aren't."
What are the problems?
There were a number of fan protests in the EFL last season against unpopular owners.
League Two side Leyton Orient protested against owner Francesco Becchetti in May, while Charlton and Coventry fans threw plastic pigs on the pitch during their League One match in October.
"At the time of coming into a club, they were able to pass the test and able to prove they had the money to be able to operate that club," added Harvey, who was managing director at Leeds United before taking charge of the EFL in 2013.
"What you don't see is those that don't even knock on the door to come through it - because they know they are not going to pass.
"The day of the 'local lad done good' buying his local club is not something that we see particularly any more."
What about scheduling?
Harvey said the EFL makes "conscious scheduling decisions" to hold local games across the three divisions at weekends to encourage more people to attend.
"We make that scheduling choice to get bigger games at weekends because that provides better atmosphere and increases gate revenue for clubs," he added.
"The flip side is that those games that are at a distance have to go into midweek.
"It is a deliberate act but the reason for it is to ensure we get bigger crowds at weekends rather than lower crowds in the midweek.
"It's deliberate in so much as we don't set out to make a fan's life more difficult than it has to be.
"We don't wake up in the morning and think how can we make the most inconvenient set of fixtures but we have a 46 game league programme and there aren't enough weekends in a season and bank holidays to be able to play those so we have to have midweek games."