Scotland: Shaun Maloney says side have 'great chance' of securing World Cup place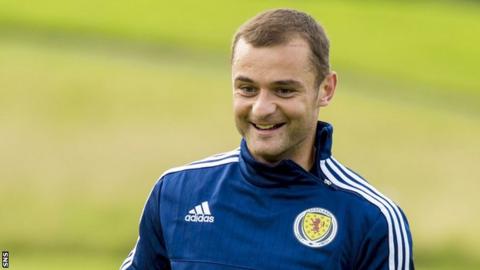 World Cup qualifying: Scotland v Slovakia
Venue: Hampden Park Date: Thursday, 5 October Kick-off: 19:45 BST
Coverage: Listen on BBC Radio Scotland; live text commentary on the BBC Sport website
Former Scotland international Shaun Maloney believes the national team has a "great chance" of securing a World Cup play-off place.
Maloney's last involvement with the Scotland squad was 12 months ago when they lost 3-0 to Thursday's opponents Slovakia in Trnava.
But he believes they can overcome that qualification setback at Hampden.
"In the last two or three months there's been a vast jump in performance," he said.
"And in the intensity when they don't have the ball, that's something I noticed a big difference in."
Maloney is now the assistant under-20s coach at Celtic, having retired from playing during the summer because of a hip injury.
He will watch Scotland's double header - Slovakia on Thursday then away to Slovenia on Sunday - with an analytical eye, but also the passion of a supporter as he hopes the national team secure a place at the World Cup finals in Russia.
'Hopeful Scotland can bridge the gap'
"I'm really interested to see how Scotland set up," Maloney said.
"But I'll probably worry about the result. As a fan I just want them to win the match, but it's easy to say that.
"There are people I played with in the squad so I'd be happy for them [if Scotland qualify].
"I couldn't have tried any harder for Scotland; as a group we weren't quite good enough [to qualify for a major finals].
"With the Scotland team I don't think anyone can say they don't have the desire or the heart to get there, it's always been: 'are we technically or tactically good enough?'
"I'm hopeful the improvement the country's made in the last year can bridge that gap."
Maloney is still adjusting to the different demands of being a coach, but is relishing the opportunity, having started to consider moving into the role six years ago, when he was 28.
He was due to sign for Aberdeen during the summer, but informed the club of an ongoing hip injury. Tests showed the problem was worse than Maloney realised, prompting him to retire.
Less than one week later, Celtic offered him a coaching role.
"I knew there was an issue with one of my hips and I just had to be honest with the Aberdeen manager," Maloney said.
"I'm really glad I told them. That's my hometown, I still have family there so I couldn't have gone up there and not told them.
"I'm not missing playing. The last couple of years it became quite difficult physically so I just threw myself into the [coaching] job.
"You have days where training goes really well or doesn't go well, but the really great day is when you phone a 17-year-old and tell him he's training with the first team.
"That's what you dream of from the coaching point of view.
"As I player I did everything I could to be the best I could be, and I'll do the same as a coach."