Harry Redknapp: Yeovil Town boss Darren Way invites ex-Birmingham manager to club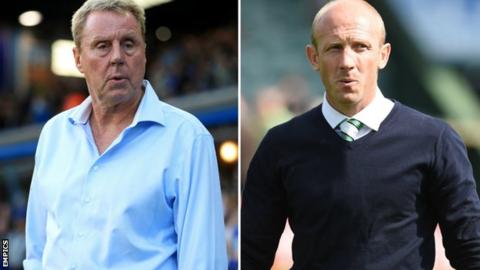 Harry Redknapp could be set for an advisory role at Yeovil Town following an invitation from manager Darren Way, approved by the Glovers' board.
Way contacted Redknapp shortly after the ex-Tottenham boss was sacked by Birmingham City on 16 September.
Redknapp, 70, had publicly offered to support a "young manager" for free.
"The opportunity to bring in someone like Harry to pass on his knowledge is a no-brainer," 37-year-old Way told Yeovil's club website.
"Harry has been in the game a long time. He is someone I highly respect for the experience he's gained.
"There's no pressure or long-term commitment from either side, but I'm looking forward to having Harry at Huish Park."
Yeovil, who have been led by Way since 2015, are 17th in League Two with three wins from their first 11 league games.
Speaking about his future on BT Sport on Saturday, Redknapp - who won the FA Cup with Portsmouth in 2008 - said: "What I wouldn't mind doing is maybe going in with a young manager somewhere and helping a couple of days a week.
"Up the road to me, Yeovil, the young manager there, I don't want any money for it, I'd go and do a couple of days with him, just if I could help Darren Way. He's a smashing lad.
"Something like that would suit me fine - I'm not going to travel. A couple of days a week, and to go and watch them on Saturdays, I'd enjoy that."
Redknapp, who lives near Poole in Dorset, less than 50 miles from Huish Park, was previously appointed as an advisor at Derby County in March 2016, where he briefly worked alongside then Rams head coach Darren Wassall.
Redknapp to watch Yeovil train
Analysis - BBC Somerset's Yeovil Town commentator Chris Spittles
Darren Way acted quickly and decisively when Harry Redknapp left Birmingham and spoke of wanting to help a young manager, contacting him directly to make sure he was at the front of the queue.
With Redknapp living close by in Dorset, it looks a natural fit and he'll watch Way take Yeovil training this week.
Yeovil's results and performances have been inconsistent this season and Way clearly feels he would benefit from Redknapp's experience.
It's a bold move from a manager who has come under fire from Yeovil fans in recent weeks but, with Redknapp offering to work for free, he has little to lose and much to gain.