Price of Football 2017: Irish Premiership season ticket prices have risen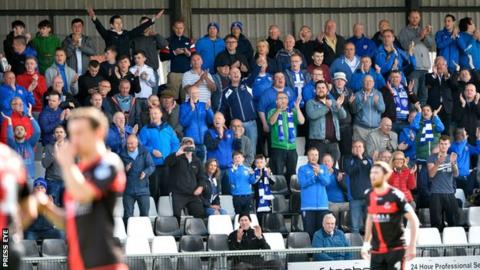 Season ticket prices in the Irish Premiership have risen, the BBC's Price of Football study has revealed.
More than 2,000 ticket prices at more than 200 clubs were analysed in the biggest study of its kind in Europe.
The cheapest average season ticket has gone up from £140.91 to £148.33, while the most expensive has increased from £145.91 to £151.67.
However, the Irish Premiership remains the second cheapest league to watch men's football in the UK.
Ticket prices are capped by the Northern Ireland Football League but there has been a 10% rise on single adult home and away matchday tickets - from £10 to £11.
The Welsh Premier League remains the cheapest league in Britain to watch men's football, with the cheapest season ticket costing £60 at Prestatyn, while the dearest is £126 at Bangor City.
Six out of the 12 clubs in the Premiership provided data to the BBC, while prices from Ballinamallard United, Crusaders and Linfield were obtained from their club websites.
Adult shirt prices are up more than 5%, but there was a slight reduction in average junior shirt prices.
Average tea prices rose to above a pound compared to last year. Programme prices also rose, but only one of the clubs that responded, Glentoran, sell pies.
This year we have analysed ticket prices in 10 categories - cheapest and most expensive matchday ticket (on the gate and online), cheapest away ticket and most expensive away ticket, cheapest season ticket and most expensive season ticket, and for the first time this year, young adult season ticket and matchday prices.