Kilmarnock need strong character, says former boss Shiels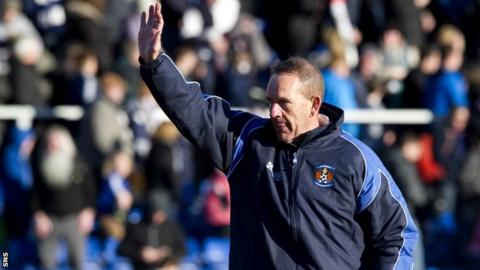 Former Kilmarnock manager Kenny Shiels believes the club's next manager needs to "get momentum back".
Derry City boss Shiels, 61, was the last Rugby Park boss to win a trophy with the League Cup in 2012 and left the club the following year.
Lee McCulloch left Killie on Sunday with the side sitting bottom of the Premiership. He was the Ayrshire side's eighth manager in eight years.
"It's not about football skills at the moment," said Northern Irishman Shiels.
"In the first instance they need someone that's going to come in and bring a purpose with them and bring positive energy and try and make sure that he has a skill-set in emotional intelligence.
"You need to know your players and you have to be intelligent in those areas where you manage emotions and I'm sure Lee McCulloch will be the first to say there was a lot of different emotions in that dressing room.
"He needs to identify strong characteristics to bring into the team and take them to a new level. Get momentum back would be the first point of attack."
Shiels feels Killie's small home crowds in the near-18,000 capacity Rugby Park has affected the players.
"They're the oldest club in Scotland and [there are] so many things that will attract people," he told BBC Radio Scotland's Sportsound.
"Kilmarnock has got great history and they're a great club and great geographical region.
"My last six months was very good in terms of we won at [Celtic Park] for the first time in 57 years, we won at Hearts twice, we won at Rangers, we won at Dundee, we won at Dunfermline, we won so many away games. Our home form was very poor in contrast to that.
"There's a certain amount of incompatibility. In every 100 seats in that stadium, there's only 16 people in them. It causes a poor environment. Environments are important. If you're not doing well then you've got the apathy that comes with that.
"It doesn't help the players and they don't look forward to playing at home. I'm sure that's been very prevalent in current times.
"If Kilmarnock had the exact stadium as St Mirren Park, that would engender a lot better atmosphere for the home players and the home support and there's more of a feeling of belonging in that. I feel as if that would've been a good investment to downsize the stadium."