How England U21s' Premier League minutes compare to Spain, Germany & Italy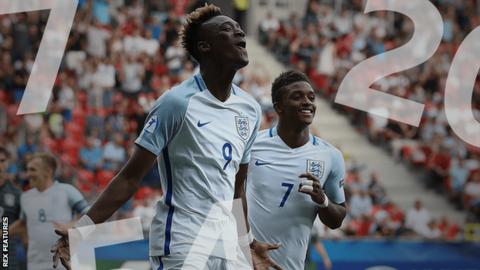 England's Under-21 players have played less top-flight football this season than their Spanish, German and Italian counterparts.
BBC Sport analysed the minutes played by the squad members of the four 2017 European Under-21 Championship semi-finalists.
And the data shows that England's Under-21s have played 49% of the total top-flight minutes of their Spanish opponents, 58% of the Germans and 67% of the Italians.
It comes after a summer in which England's youth teams reached three out of four tournament finals - winning the Under-20 World Cup in South Korea and the European Under-19 Championship in Georgia, and losing on penalties to Spain in the Under-17 Euros. The under-21s lost to Germany in the semi-finals of their European Championship.
Aidy Boothroyd, who coached England U21s this summer, said the lack of top-flight minutes should not be used as an excuse - but admits it is a "killer stat".
BBC Sport has collated the number of minutes played by England Under-21s, the under-20s and the under-19s in this summer's tournaments and compared them to their European rivals...
England U21s
England's squad members from this summer's European Championship have played the equivalent of almost 50 Premier League matches this season. The total they might have played is 161 full games.
88% of the Spain squad's game time this season has come in La Liga - the country's top flight.
Of the other three semi-finalists, England's ratio is 47%, Germany's is 69%, Italy's is 76%.
Everton goalkeeper Jordan Pickford and Swansea defender Alfie Mawson have played the most top-flight football - appearing for every minute (630) of their club's seven Premier League games.
Germany beat Spain 1-0 in the final, despite many of their regular squad playing for the senior team in the Confederations Cup.
England U20s
Italy were the only other European side to reach the last four of the 2017 Under-20 World Cup - England beat them 3-1 in the semi-finals.
Their squad has played more than double the top-flight minutes of England's so far this season, despite less game time overall.
Only 9% of the England squad's game time is in the Premier League, compared to 41% in the Championship.
Dominic Calvert-Lewin's Everton appearances this season make up 62% of the entire squad's total Premier League minutes.
England U19s
England beat Portugal 2-1 in the European Championship final this summer.
Both squads have had very few top-flight minutes - 112 for England and 63 for Portugal.
97% of the Portuguese squad's game time this season has been in the second tier of their domestic league.
The manager's viewpoint
Last season, England Under-21 squad players played just over 20,000 minutes of top-tier football - 17,000 fewer than their Spanish counterparts. Of the other semi-finalists, Germany's youngsters played just over 31,000 and Italy's just short of 30,000.
Boothroyd managed England's under-19s and under-20s before taking the under-21s to the Euros this summer. He told BBC Sport:
Fewer top-flight minutes impact on the "fine margins of winning elite tournaments";
Players can miss "big-game understanding and experience" if they are playing in the Championship instead of the Champions League;
The globalisation of the Premier League has benefited coaches and players, but also limits young English players' game time;
More young English players could move abroad as part of their "development".
"It's a difficult one because our league is the best," said Boothroyd. "It doesn't necessarily help our players because with globalisation comes foreign owners, foreign managers and foreign players. They have helped us as coaches and our players, but the fact [England players] are stopped playing because of this is a problem."
Some young English players, starved of opportunities at home, have moved abroad. This summer, Chris Willock left Arsenal for Benfica and Jadon Sancho departed Manchester City for Borussia Dortmund.
"We may see a little bit more of that because our players are as good as anybody in the world," Boothroyd said. "Considering the summer we had, we have really put our flag in the ground and a marker about who we want to emulate and be better than.
"If players get to a ceiling of development and think they can go and play more football somewhere else, it is good for them and should be part of their development. There comes a time when they have got to have a little real-life stuff where it counts."
The player's viewpoint
Newcastle United's Freddie Woodman was chosen as the tournament's best goalkeeper as England became under-20 world champions this summer. He saved a penalty in the final as England beat Venezuela 1-0.
The 20-year-old has yet to make a Newcastle appearance, but has spent time on loan with Hartlepool, Crawley and Kilmarnock in the past three seasons. This year, he has been on the bench for the first team on three occasions. Woodman told BBC Sport:
He wanted to go back out on loan this season but is not worried that a lack of top-flight game time will hinder his progress;
More young English players will move abroad for opportunities;
Current England youth teams have developed a "strong winning mentality".
"I wanted to get game time, but the manager told me he wanted me to stay around the team and that will only improve me," Woodman said.
"I want to test myself against the best. Fortunately I am able to do that with England and I really want to do that back at my club - but that is out of my control.
"I told [Newcastle boss Rafael Benitez] at the beginning of the season that I want to push for number one - I feel I have the right to do that on the back of the World Cup and can hold my own if I do get called upon.
"I really feel like the club see my progression, especially under this manager. He speaks to me daily, working on my game, always trying new things so it is just brilliant to have a manager of his calibre there supporting me and trying to make me a better goalkeeper. I'm just really waiting for my chance."
Tim Sherwood, ex-Tottenham and Aston Villa manager
"If I go to bed on a Friday night knowing I have a choice between a young lad who might give me nine and a half out of 10 - but might also give me a three out of 10 - and an experienced player who I know will give me no better or worse than a seven, I would always go for the experienced player. You simply cannot afford to take the chance."
Case study: Chelsea & Andreas Christensen
BBC Sport's Simon Stone
Are minutes played worth the same across Europe? Getting game time in the Premier League is far harder than anywhere else - the top six harder still - and the Manchester clubs and Chelsea are at the peak of that.
Chelsea would point to Danish defender Andreas Christensen as an example of how they believe the development of young players should work.
He signed in 2012, aged 15, won the FA Youth Cup in 2014, and made his first-team debut in October of the same year.
In July 2015, he joined Bundesliga outfit Borussia Monchengladbach on a two-year loan.
He became established in the first-team, playing against strikers such as Robert Lewandowski domestically, and Lionel Messi and Sergio Aguero in Europe
So this summer, Chelsea knew exactly what Christensen was capable of and resisted Monchengladbach's attempts to sign him permanently.
Against Manchester City on Saturday, the Dane made his ninth appearance of the season, five of which have been starts - and he is just one player Chelsea feel can emerge in that manner from their extensive youth development programme.
Striker Tammy Abraham and midfielder Ruben Loftus-Cheek - on loan at Swansea and Crystal Palace respectively - are two the Premier League champions have hopes for. Defender Nathan Ake was another, but he opted to join Bournemouth for £20m in a permanent deal this summer instead.
However, the loan system is not an exact science. Chelsea acknowledge their turnover of first-team managers has not helped the development of their youngsters - during Christensen's relatively short time at the club, there have been seven bosses.
It means a majority of the players Chelsea loan out - 34 this season - are destined never to get close to the first-team squad, while others would just prefer to move on.
The Manchester City method
The Premier League II - effectively an under-23 league - was described by Manchester City boss Pep Guardiola as uncompetitive.
"The second teams in Spain, at Barcelona and Real Madrid, play in front of 40,000 people. In Italy or Germany they play with players who are 28, 29 or 30. Here they don't compete. They play with each other with small ages and no spectators," said the Spaniard.
An EFL League idea to introduce B teams into a reformed 100-team professional structure was thrown out before it had got past the discussion stage, such was the weight of opinion against it.
Even the revamped EFL Trophy, in which 16 Category A academy clubs are invited to compete, only made it into a second season because the Premier League substantially increased its contribution to the prize fund.
Manchester City have gone another way - they have bought a Spanish club.
Between them, City and Guardiola's brother, Pere, paid £6.5m to buy 88% of Catalan club Girona, who are competing in La Liga for the first time this season and boast five young City players.
The intention was for it to be more but Patrick Roberts opted to spend a second season at Celtic, while Sancho left permanently for Dortmund.
But as long as Guardiola remains in charge, Girona will be the preferred route of development for City's youngsters.
Jermaine Jenas will examine the youth development in England on The Premier League Show at 22:00 BST on Thursday on BBC Two and the BBC Sport website.