Peter Houston alarmed by manager changes in Scotland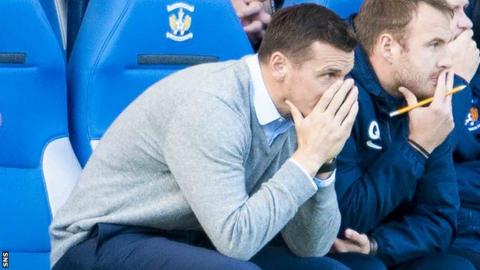 Peter Houston believes the turnover of managers in Scotland has become "quite severe" and says financial constraints is the underlying problem for clubs.
Lee McCulloch's departure from Kilmarnock made him the third managerial casualty in the Scottish Premiership this season.
Houston, 59, left Championship Falkirk last week and sympathises with 39-year-old McCulloch.
"In today's game, you're not getting that time," Houston told BBC Scotland.
"The changeover in managers is quite severe just now, like in England. It's a worry that Scotland is becoming a little bit more like England.
"Up here in Scotland, it's even more difficult than it is down south as well because there's an awful lot of financial constraints up here, simply because there's not enough money going into the game via television and commercial activities as well.
"There's not an awful lot of money to spend to bring in better quality and that's what you need.
"I would hate to see it become a regular occurrence of managers starting to lose their jobs at the end of September, October if they have bad starts. You've got to trust a manager, you put him there in the first place.
"September or October's always a month where managers do lose their jobs if they don't start the season well because what directors feel is they have a chance and quite a number of games left to turn it round.
"Directors think they should be in the top six. If they don't make the top six, it can get a manager the sack as well."
McCulloch took over at Killie on an interim basis following Lee Clark's departure in February and kept the Ayrshire side in the Premiership.
However, Kilmarnock have taken just three points from their opening eight league matches and have not won in the league since May.
"I's disappointing for Lee because he's a young manager and it's his first job," said Houston.
"He did improve Kilmarnock when he first went in, they've had a rocky time at the start of this season - a bit like Falkirk in many ways - but I'm sure that Lee agrees that there's players there who can turn it round.
"We managers take on the job and we know that it's a results business we're in and if we don't get results then what's happened to Jim McIntyre [at Ross County], what's happened to Lee McCulloch and what's happened to myself, it's going to happen because expectation levels don't drop amongst the supporters.
"They don't probably know exactly what's going on in and around football clubs but when they voice their concerns at the team not winning, then they voice their concerns on to directors as well and once that happens, probably the easiest thing in the world to do is get rid of the manager and look for something to freshen it up a wee bit."
Houston expects McCulloch to recover from losing his first managerial job.
"Lee's probably been unlucky with some of the games that he has played and unlucky not to win some matches," added Houston.
"I haven't seen Kilmarnock this season but they're a good football club and Lee will be a good manager. He'll take this, he'll learn from it, move on and try and get something and improve the next club he goes to."