Eastleigh may have to dig up pitch to solve drainage problem, says chief executive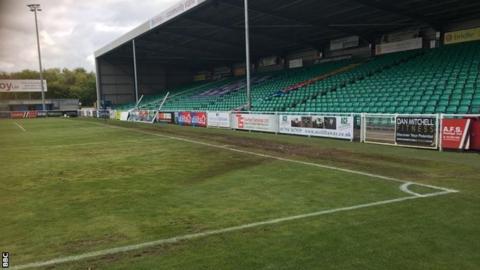 Eastleigh may have to dig up part of their pitch to solve a drainage issue, chief executive Mark Jewell has said.
The Spitfires' National League fixture against Chester was postponed on Saturday after the pitch was deemed "unfit for play" by match officials.
Emergency work is taking place on an area of the Ten Acres Stadium pitch.
"We're now looking at it to see if there's a drain broken in the vicinity that's causing water to come from the ground up," Jewell said.
Referee Savvas Yianni said that "player safety was at risk" due to the poor state of the pitch and called off Saturday's game just before 12:45 BST.
"We'll be having experts in to look at the wider area to see what remedial work we can do," Jewell told BBC Radio Solent.
"We've tried to solve this problem without having to dig the pitch up - which obviously has an affect on fixtures - but we may have to do that now, depending on how the consultation goes and what the view is on the best way forward."
Chester chief executive Mark Maguire told the club website the late postponement was "a bit of a shambles", claiming the decision could affect the "integrity of the league".
With the pitch currently unplayable, Eastleigh have been forced to move Tuesday's home FA Youth Cup tie to opponents Malmesbury Victoria's ground.
It is not the first time Eastleigh's pitch has caused problems, with kick-off against Dagenham delayed in August because of drainage issues, while pre-season fixtures against AFC Wimbledon and Portsmouth were also cancelled.