Chris Gunter: Reading defender beats Gareth Bale to Wales player of year award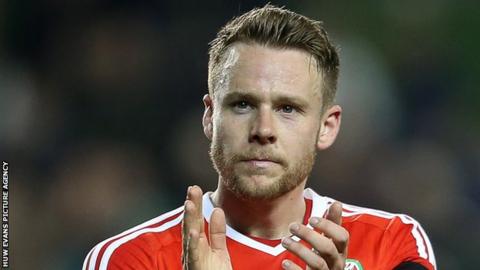 Reading defender Chris Gunter has been named 2017 Wales Player of the Year, ending Real Madrid forward Gareth Bale's four-year run of success.
Bale was named players' player of the year, with Stoke midfielder Joe Allen the fans' player of the year.
Laura O'Sullivan was named women's player of the year, with Angharad James the players' player, and Jess Fishlock fans' player of the year.
Ben Woodburn and Peyton Vincze were named young players of the year.
Elsewhere at the Football Association of Wales annual awards in the Vale of Glamorgan, former striker Ian Rush was presented with a special accolade.
Newtown's Craig Williams was named the Welsh Premier League clubman of the year.
Reading midfielder David Edwards won the media choice award.
2017 Football Association of Wales award winners
Men's awards
Player of the year: Chris Gunter
Fans' player of the year: Joe Allen
Young player of the year: Ben Woodburn
Media choice award: David Edwards
Players' player of the year: Gareth Bale
FAW special award: Ian Rush
Welsh Premier League clubman of the year: Craig Williams - Newtown AFC
Women's awards
Player of the year: Laura O'Sullivan
Young player of the year: Peyton Vincze
Players' player of the year: Angharad James
Fans' player of the year: Jess Fishlock