Mark Robins: Coventry City boss pleased with defence after three wins in a week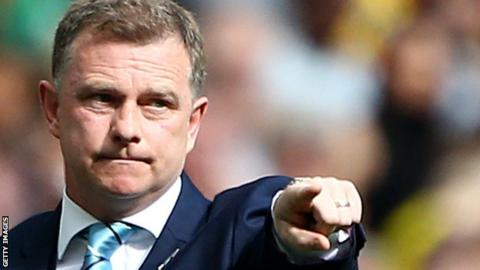 Coventry City manager Mark Robins has praised his team's back line, who have the best defensive record in League Two this season.
The Sky Blues are fourth after 11 games, having conceded just six goals - four fewer than Luton, the next best team defensively.
Coventry beat Crewe 1-0 on Saturday, which followed two league wins in the previous seven days.
"Seven clean sheets is an absolutely outstanding achievement." said Robins.
He told BBC Coventry & Warwickshire: "I think they've done fantastically well. It really is important to be dogged and determined and they're proud of it.
"It's been a great week. Another clean sheet and the two games prior to this, the Exeter and Swindon games, were really tough and took a lot out of us," he said.
Robins wanted to see more from his side going forward, but said he saw signs of promise.
He continued: "We could do with alleviating the pressure in terms of the chances that we're getting and finishing those off but I can see that coming, that's developing."
Coventry have scored 14 goals in their first 11 games, the fewest of any team in the top 10.