Man City to win title ahead of Man Utd, with Palace facing the drop - says study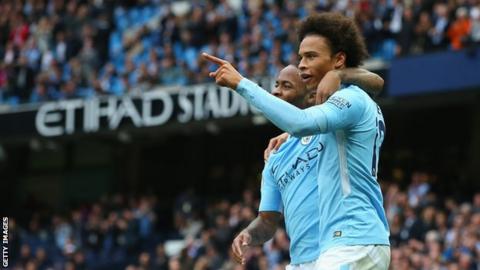 Everybody loves an international window, right? A chance to take stock and check how our pre-season predictions are shaping up.
The Premier League season is only seven games old, but there are already several narratives that stand out.
Data company Gracenote Sports, which specialises in such forecasts, has updated its predicted title winners from Chelsea to Manchester City, while Crystal Palace's fate looks like it has already been sealed down at the bottom.
Gracenote uses its Euro Club Index ranking of top-flight clubs and then runs season simulations one million times to predict the final table.
City to overcome United
Chelsea had been the pre-season favourites with City expected to finish second and United down in fifth.
But the two Manchester clubs have enjoyed a blistering start to the season and have almost identical records, with just goal difference giving Pep Guardiola's City side the advantage.
City have been given a 47% chance of winning the league, United have a 24% chance and Chelsea 13%.
"Unsurprisingly, the teams who were projected to finish in the top-six pre-season still are, but the exceptional starts of the two Manchester clubs have improved their expected points and positions at the end of the season," said Gracenote Sports' head of analysis Simon Gleave.
United's and Tottenham's form has pushed Arsenal down from third into fifth, with Liverpool staying sixth, while reigning champions Chelsea have dropped to third and Spurs stay fourth in the final Champions League qualification spot.
Palace to have a season to forget
Crystal Palace, who began the season with Frank de Boer in charge before appointing Roy Hodgson, have lost all seven league games without scoring a goal.
A defeat in their next game against Chelsea will mean only the Manchester United team from 1931 will have gone on a longer losing streak in the top flight.
Hodgson's side have also had the worst start to any Premier League season, with only the Portsmouth side from 2009-10, who were docked nine points, doing slightly better by at least scoring in their first seven defeats.
Palace's dismal run stretches back into last season, when Sam Allardyce was in charge. They have only won once in their past 12 league games, a 4-0 win over Hull in May, and those four goals are the only goals in those 12.
Gracenote give the Eagles a 72% chance of being relegated.
"A start like Palace have had, even taking account of playing at both Manchester clubs and Liverpool, is going to be very tough to bounce back from and Palace are currently exhibiting a similar profile to Sunderland at this stage last season," said Gleave.
Huddersfield were predicted to finish bottom at the start of the season and Gracenote says they were the Euro Club Index's lowest-rated Premier League team since the rating system started in 2007.
Two wins from their opening two games put them second in the league, but they have drawn three and lost two of their past five games, dropping to 11th, and Gracenote thinks they will continue to fall down the table, finishing the season in 19th with a 43% chance of relegation.
Bournemouth are in 19th and are predicted to move up just one place to 18th, with the Cherries given a 37% chance of going down.
Swansea had been tipped for a mid-table finish by Gracenote but just one win in their opening fixture has seen them drop to 17th in the predicted table and in line for another relegation battle.
All is not lost for Everton
Sunday's defeat by Burnley leaves Everton languishing in 17th. Much more was expected of Ronald Koeman's side after spending £142m in the summer.
But Toffees fans can be buoyed by Gracenote's prediction of them finishing seventh, the same as its pre-season prediction, albeit with fewer points.
Burnley have been one of the surprise packages so far and are in sixth after their best start to a Premier League campaign.
They had been tipped for the drop by Gracenote, but they are now predicted to finish in ninth.
Another earmarked for relegation had been Watford, but they are also doing better than expected and projected to finish 13th, while Newcastle are performing more or less as expected in mid-table.
Final table?
| Pre-season (expected points) | After seven games (expected points) |
| --- | --- |
| 1. Chelsea (78) | 1. Manchester City (84) |
| 2. Manchester City (76) | 2. Manchester United (79) |
| 3. Arsenal (74) | 3. Chelsea (79) |
| 4. Tottenham (72) | 4. Tottenham (74) |
| 5. Manchester United (71) | 5. Arsenal (73) |
| 6. Liverpool (67) | 6. Liverpool (67) |
| 7. Everton (56) | 7. Everton (51) |
| 8. Leicester (53) | 8. Leicester (48) |
| 9. Southampton (52) | 9. Burnley (47) |
| 10. West Ham (47) | 10. Southampton (46) |
| 11. Stoke (46) | 11. Stoke (46) |
| 12. Swansea (43) | 12. Newcastle (45) |
| 13. Newcastle (43) | 13. Watford (44) |
| 14. Bournemouth (42) | 14. West Ham (44) |
| 15. Crystal Palace (41) | 15. West Brom (41) |
| 16. West Brom (40) | 16. Brighton (40) |
| 17. Brighton (39) | 17. Swansea (39) |
| 18. Burnley (39) | 18. Bournemouth (36) |
| 19. Watford (37) | 19. Huddersfield (35) |
| 20. Huddersfield (31) | 20. Crystal Palace (30) |