Paul Tisdale urges Exeter City to stay focused as they aim for League Two summit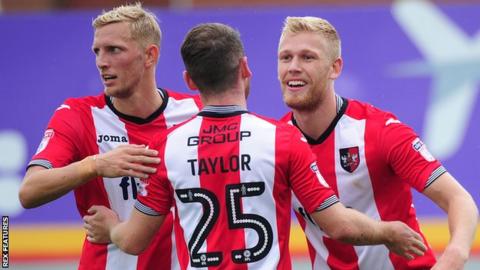 Exeter City manager Paul Tisdale says his side must work to maintain momentum as they look to stay in the top spots in League Two.
City's 4-1 win over Morecambe followed back-to-back defeats as Tisdale's side racked up their 100th point in their last 40 games - an average of 2.5 points a game since November.
"It just shows the kind of extended run we've been on," Tisdale said.
"It's important that we keep that focus going forward and beyond this point."
Exeter have lost just seven games since an agonising 3-2 defeat at Carlisle on 19 November last year, having led 2-1 going into injury time.
The loss consigned City to the bottom of the Football League, but Tisdale's side rallied and ended up making the play-off final at Wembley before losing to Blackpool.
"We've got to keep the momentum going" added the City boss, who is set to sign a new contract at St James Park.
"Losing two games last week really needed a response and I think we really got it."