Garth Crooks' team of the week: Kane, Coutinho, De Bruyne, Rashford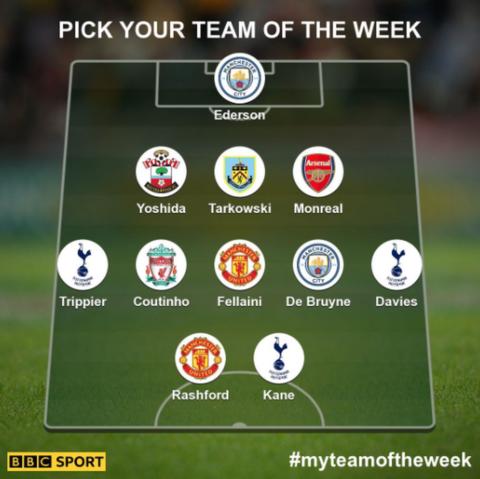 Manchester City are top of the Premier League after a 1-0 victory over champions Chelsea at Stamford Bridge, while Manchester United remain level on points with their rivals after cruising to a 4-0 win against Crystal Palace.
Elsewhere, striker Harry Kane scored twice in Tottenham's 4-0 win at Huddersfield, and north London rivals Arsenal eased to a 2-0 success at home to Brighton.
Burnley's impressive form continued as they beat Everton 1-0 at Goodison Park to put the pressure on Toffees manager Ronald Koeman, while Jurgen Klopp's Liverpool were held to a 1-1 draw by a Newcastle team led by former Reds boss Rafa Benitez.
West Ham recorded a dramatic late win over Swansea to give Slaven Bilic some relief heading into the international break while Peter Crouch rolled back the years as Stoke City clinched a 2-1 win over Southampton, Watford drew 2-2 at West Brom, and Bournemouth and Leicester played out a goalless draw.
You can see the thinking behind my team below but, first, have a go at picking your team of the week.
You can pick your team from the shortlist selected by BBC Sport journalists and share it with your friends.
Pick your Team of the Week
Pick your XI from our list and share with your friends.
Goalkeeper - Ederson (Manchester City)
It was like playing with an extra defender the way the Brazilian goalkeeper, who joined Manchester City for £35m from Benfica in the summer, continually swept up at the back for Pep Guardiola's side against Chelsea. The manner in which Ederson started the game really caught my eye. His save at the near post from Cesar Azpilicueta during the early exchanges was as sharp as it was impressive. But the catch and throw to Raheem Sterling from the ensuing cross was quite brilliant. It was as commanding as it was emphatic and suggested that there was only going to be one winner in this game.
That sentiment seemed to be endorsed by Guardiola in his post-match interview, when he revealed his determination to play to win at Stamford Bridge. What must be worrying for Chelsea manager Antonio Conte and Manchester United boss Jose Mourinho is how well Guardiola's team carried out his instructions to the letter.
Let's not forget this performance was merely four days after City had brushed aside Ukrainian side Shakhtar Donetsk in the Champions League. It's the second time they have been so impressive after a jaunt in Europe and it is becoming an impressive feature. A bit like their goalkeeper really.
Defender - Maya Yoshida (Southampton)
There may be some of my readers who feel a defender whose team loses is fortunate to be in my side, and they would be right. However Maya Yoshida's equaliser for Southampton against Stoke was so brilliantly taken it deserved selection all by itself. There are very few centre-backs who can execute a volley like Yoshida did. It was the sort of finish that should have earned the Saints a point, and but for some abject defending in the final minutes it would have done.
Stoke, on the other hand, stuck to their task after making the awful decision to allow Saido Berahino to take a penalty manufactured by himself. Granted Southampton's Virgil van Dijk, who still looks ring rusty to me, didn't make an awful fuss about the verdict, which tells you something.
Nevertheless, Berahino never looked confident as he waited to take the spot-kick. It is hardly surprising Berahino was nervous given he hasn't scored for 30 Premier League games. So why did he, or anyone else for that matter, think converting this penalty was going to be easy? Taking penalties has never been easy and anyone who tells you otherwise has never taken one. Stoke were lucky to come away with this win but I refuse to let Yoshida's brilliant volley be swallowed up by Berahino's penalty miss or Stoke's victory.
Defender - James Tarkowski (Burnley)
It's the second time this season that James Tarkowski has made his way into my team of the week. His performance against an Everton side who seem to have lost their way was very impressive. This wasn't a classic encounter by any means but Burnley defended stoutly and Tarkowski, who has stepped up to replace Michael Keane after the Clarets sold him to Everton for £30m, became a feature of their performance.
Last week Everton looked bright and breezy against Bournemouth but they desperately lacked the necessary know-how against Burnley. So what's happened to Everton in the space of eight days? Suddenly Ronald Koeman looks uninspiring and vulnerable at Goodison Park, while his players are looking at each other, and not him, for direction.
What a contrast when you look at Burnley. Clarets boss Sean Dyche has developed a side very much in his image. They are resolute, no-nonsense and play organised football with a dash of enterprise here and there. He has turned decent professionals into good players.
However, if Everton were to dispense with the services of Koeman they should get hold of Watford's Marco Silva. He is perfect for the Toffees. He plays bright, attacking football - the sort Everton fans would love - and has an eye for a player.
Defender - Nacho Monreal (Arsenal)
A player such as Nacho Monreal is not the sort of defender I naturally gravitate towards, but I feel compelled to select him. Performances from players such as former Gunners full-back Lauren used to thrill me, while Sol Campbell seemed to get better the bigger the occasion. Then there was William Gallas, who was amazing, and Ashley Cole who, for five years, was the best left-back in the world. These were defenders - some of whom were part of their 'Invincibles' side - I greatly admired.
Now Monreal is not in this class, but whenever I see him play he does so as if his life depends on it. Monreal has survived at Arsenal while others have disappeared and the more I watch his performances, the more I understand why. The player's commitment is quite extraordinary, manager Arsene Wenger trusts him implicitly, and so he should.
Monreal's goal against Brighton, in what was an otherwise poor game of football, was one of the few bright sparks. This fixture was enough to send me to sleep.
Midfielder - Kieran Trippier (Tottenham)
I noticed Kieran Trippier when he played for Burnley against Spurs at White Hart Lane, and he stood out then. That seems a long time ago, but if you had asked me then was this lad capable of playing Champions League football, I would have told you he had an awful lot of work to do.
But that is precisely the point. Trippier came to Spurs with serious competition for his place in the starting line-up. But the young full-back seems to have done it. He's been a consistent member of the first-team squad for some time and is playing with bags of confidence in a Spurs set-up bristling with confidence.
Huddersfield Town never laid a glove on Spurs all afternoon in Yorkshire. As for Trippier's performance, it was of the highest order. Everything he seemed to do was done with such finesse and quality. It was a Trippier header that set up Harry Kane's first goal, and it was nothing short of genius.
Midfielder - Philippe Coutinho (Liverpool)
What is wrong with Liverpool? The Reds should have smashed Newcastle out of sight, but instead they limp away from St James' Park with a point. Are they over-reliant on Philippe Coutinho? Since his return to first-team duties, the Brazilian attacking midfielder been absolutely wonderful.
I've been banging on about Liverpool's defence for 12 months and nothing has been done about it. Jonjo Shelvey drove a ball through Joel Matip and Dejan Lovren with such ease for Newcastle's equaliser it was frightening. You could have driven a coach and horse through the gap between Liverpool's defenders, it was so wide.
Coutinho is at Anfield for now following the transfer saga of the summer. But I wouldn't be in the least surprised if it were for one more season only, in a similar manner to Luis Suarez, who also eventually departed to Barcelona.
However, if performances like this continue you will either burn him out or he will become disenchanted. Manager Jurgen Klopp must now fulfil his side of the bargain with Liverpool having held on to Coutinho, and ensure he has a defence worthy of playing with the Brazilian. Otherwise, what is the point of the little magician scoring breathtaking goals, if his team can't defend a lead when he does? There's no point keeping him.
Midfielder - Marouane Fellaini (Manchester United)
To win the endorsement of Manchester United fans takes some doing. Players such as captain Michael Carrick, for example, have had to work especially hard to win the approval of the Old Trafford faithful.
In that sense, Red Devils midfielder Marouane Fellaini is in very good company. The Belgium international has found winning their approval particularly difficult since David Moyes signed him from Everton for £27.5m in September 2013. Nevertheless, to the Belgium international's credit, he's stuck at it and, indeed, may have cracked it.
Against a poor Crystal Palace team, who are low in confidence, Fellaini's presence was telling and he struck me as a significant player in the United team in a way I hadn't noticed before. That presence seems to have transferred itself to the United fans, which is probably why they have started to chant his name. And nothing gives a player more prominence, and confidence, than when the fans start chanting your name.
Midfielder - Kevin de Bruyne (Manchester City)
BBC commentator Jonathan Pearce thought Kevin de Bruyne was having a quiet game against Chelsea, and by his standards he probably was. That said, De Bruyne did star in City's 2-0 win over Shakhtar Donetsk in the Champions League last week so he could be forgiven for taking his time to come to the boil. He also scored a vital goal in that match as City secured three points against a team who are not to be sniffed at.
Nevertheless, the game against Chelsea was a different affair entirely and a terrific contest. The one-two De Bruyne played with Gabriel Jesus which set up the Belgium midfielder's goal was so inviting I felt like getting off my couch and giving the ball a whack myself.
City are looking ominous at the moment, and more reminiscent of Barcelona with every game I see them play. The strike on the run by De Bruyne was so sweetly struck it flew past Chelsea goalkeeper Thibaut Courtois like a rocket. It needed to be something special because Courtois had earlier made a fantastic save from Fernandinho's flying header so we knew he was up for it.
This was such a compelling victory by City that even Chelsea boss Antonio Conte had to front up in his post-match interview and give credit where it was due, praising Guardiola's side. City are looking the real deal at the moment.
Midfielder - Ben Davies (Tottenham)
If Guardiola is trying to get Manchester City to play in the style of Barcelona then you could be forgiven for thinking that Mauricio Pochettino looks like he is developing a team in the image of the current Real Madrid side. The one-touch football played by Spurs against Huddersfield was, at times, mind-blowing. The goal which involved practically every member of the Tottenham team, resulting in a memorable finish by Ben Davies, was just pure quality from start to finish.
While I get the feeling Spurs fans could watch this style of football forever, regardless of the outcome, it would be a crime if the team couldn't crown these sorts of displays with a trophy at the end of the season. There is only Manchester City who can live with the football Spurs are producing at the moment, and if they could transfer that into silverware then never mind Harry Kane being the best Tottenham striker that ever lived, this could be the best Spurs team.
Forward - Marcus Rashford (Manchester United)
I said it on Final Score on Saturday - Marcus Rashford absolutely rinsed Crystal Palace defender Joel Ward for United's first goal, then proceeded to terrorise the Eagles for the entire afternoon. The look on Palace manager Roy Hodgson's face in the dugout said it all. To be fair, Ward deserved more help. To leave the Palace defender so isolated, especially in the first half against a player of Rashford's pace and agility, was short-sighted and he deserved back-up.
It was like watching a great white shark tossing its prey about before devouring the poor soul. It took Palace far too long to plug that gap. It was Palace's right side where all their problems seem to come from. Ashley Young also provided the cross for Fellaini's goal from that side.
With no points on the board, and indeed no goals, Palace look in a perilous situation. But they do have the quality in the side to do something quite miraculous. If so, they are going to have to show far more courage than they did at Old Trafford. Fortunately they won't have to play against Manchester United - or someone like Rashford - every week.
Forward - Harry Kane (Tottenham)
An Arsenal fan said to me, almost in desperation that "we weren't playing anybody". Quite why he insisted making 'me' part of the 'we' I wasn't entirely sure, but the point he was trying to make was that Huddersfield are not a Manchester United, Manchester City or even an Arsenal for that matter. OK, I get that, but I have seen Harry Kane do what he did to David Wagner's side to all the above.
Arsenal fans can try to convince themselves otherwise, but I have seen Kane score magnificent goals against the very best. Even if some Arsenal fans are in denial.
I quite understand critics claiming that Kane's hat-trick against Apoel Nicosia in the Champions League and double at Huddersfield on Saturday won't win him the Ballon d'Or, but it does build up an unassailable confidence. This is particularly the case when you are about to meet your rivals in a north London derby. Maybe that's what could be bothering Arsenal fans!
Kane's performances at the moment remind me of the form Gareth Bale was in when he had that unbelievable purple patch at Spurs some years ago. Let's hope for Tottenham's sake he doesn't end up at Real Madrid. It's not out of the question if he carries on at this rate.