Lee McCulloch feels 'let down' by Kilmarnock players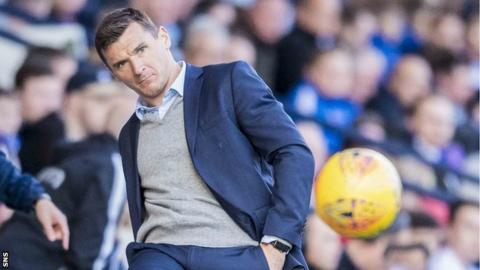 Manager Lee McCulloch revealed he told his Kilmarnock players "the truth" in the Rugby Park changing room after Saturday's 2-0 defeat by Ross County.
The Ayrshire team are bottom of the Premiership, with three draws and five defeats in eight matches.
"I've told the players I feel really let down by their application in the first half," McCulloch told the BBC.
"That was pretty bad. The truth has been told in the dressing room. It wasn't pretty for the fans."
Killie registered only one shot on target in the 90 minutes against a County team playing their first match under new manager Owen Coyle.
By half-time the hosts trailed to goals by Craig Curran and Kenny van der Weg, a position from which they never recovered, despite half-time substitute striker Kris Boyd having two chances to score.
"In the second half we gave it a go - a couple of crosses, a couple of half-chances - but the game was won and lost in a 30-minute period in the first half when we didn't get close to anybody," added McCulloch, who took over as manager in the summer after a short spell as interim boss last season.
"The performance really worried me in the first half. In the second half we decided to go longer and brought Kris Boyd in and we were better than the first half but that wouldn't have been hard.
"At 2-0 it didn't look as if we had that spark to get it back."
Asked if he felt under pressure as manager, McCulloch replied: "No, I don't. There is always going to be pressure, especially after a result like that.
"I am feeling all right just now. I have just told the players my honest opinion. Of course we are [going to bounce back].
"The fans are entitled [to boo]. With that first-half performance, the fans were pretty kind, to be honest."