Tommy Wright says Aberdeen defeat is worst display of his reign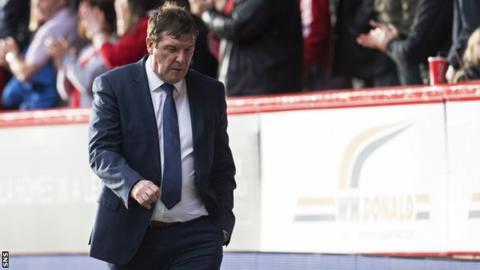 St Johnstone manager Tommy Wright described his side's 3-0 defeat by Aberdeen as the worst they have produced since he has been at the club.
Adam Rooney struck all three goals, but Wright was disappointed with the performance of his side.
"It is probably the worst performance since I have been here," the St Johnstone manager told BBC Scotland.
"They have quality players, but even though we were poor, the goals we lost in the first half were preventable."
St Johnstone had been unbeaten in their last five league visits to Pittodrie, but from the outset there was little chance of extending that run.
Rooney was left unmarked for his first two headed goals inside the opening 18 minutes then completed his haul with a penalty 10 minutes from the end.
Wright certainly did not hold back on his condemnation of the St Johnstone players after a result that means they slip six points behind joint league leaders Celtic and Aberdeen.
"It was disappointing, as the first thing you have to do is match Aberdeen's energy and we didn't do that. We conceded some sloppy goals" he said.
"They came up here overnight and got everything they wanted in terms of preparation but put in an inept performance in all aspects of the game.
"I am at a loss the number of times we gave the ball away in the first half in particular. You can't do that against a good side because we see what they'll do to you."
Top scorer Michael O'Halloran and experienced defender Richard Foster were missing through injury but should return after the international break.
"It was uncharacteristic and the goals sum up the performance from our point of view," Wright said.
"People haven't helped each other and people have taken responsibility and I am having a right old rant.
"But, listen, one game in 200 that I have been totally dissatisfied with is not too bad, but they were very quiet in the dressing room after the game and that probably tells you something."