Falkirk interim boss Alex Smith to be oldest manager in Europe this weekend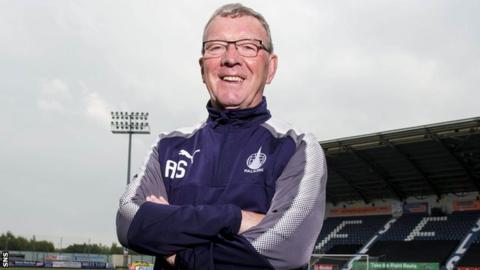 After beginning his management career in 1968 at Stenhousemuir, Alex Smith will this weekend be the oldest boss in Europe's professional leagues.
Smith, 77, has agreed to take charge of Falkirk on an interim basis following the departure of Peter Houston on Sunday.
Asked if he expects this to be a long term appointment, he points to the sky.
"The guy up there decides what I think. And I'm not talking about the chairman," Smith told BBC Scotland.
"I would do the job as long as the club wanted me to do it, as long as the fans want me to do it and as long as it is the right thing for Falkirk Football Club."
During his time in the dugout, Smith has taken charge of St Mirren, Aberdeen, Clyde, Dundee United and Ross County, as well as the Scotland under-21s.
When he began his coaching career the Rolling Stones had just been knocked off the number one spot by Tommy James and the Shondells with their hit "Mony Mony," Czechoslovakia was invaded by around 200,000 Russian troops, and shillings were still very much the order of the day in the United Kingdom.
Smith took on the job at Stenhousemuir as player-coach before 14 months later becoming the Larbert club's manager.
Things have changed significantly since then, not least how the team is picked.
"Stenhousemuir were a club that was run by committee," Smith said. "They were tremendous people and they all brought money into the club from different directions.
"They would sit in judgement of the games on the Saturday and pick the team for the next week. They picked the team in a chronicled way. The goalkeepers would be put up and they would vote who would be the goalkeeper then they would go right through the positions and come to the conclusion of the team they had selected to go on the field on the Saturday."
Smith says dressing rooms were very different places back then as well. There were no headphones, tablets or electronic devices. Back then it was a much more simple routine.
"The place was littered with newspapers," Smith said. "They would all read the headlines and see if their name was in. If they were happy they were fine, if they were not they would go off and try and find a phone to phone the journalist who would then take a bit of flak.
"Some players chose not to read newspapers and stay away from that sort of criticism. It's very different today with players who have agents now and financial people. You have social media nowadays and there is little hiding place for anyone involved in the game."