Celtic: Scott Sinclair says beating Anderlecht silenced critics
By Clive Lindsay
BBC Sport Scotland
Last updated on .From the section Football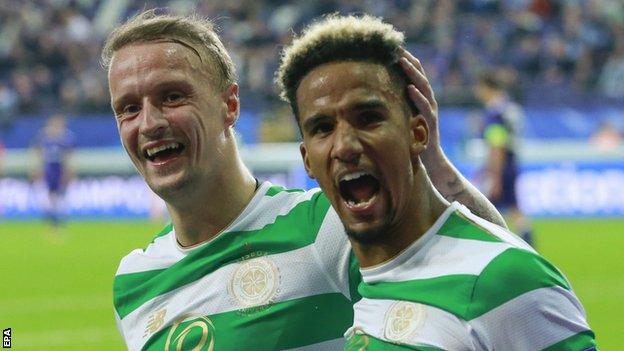 Winger Scott Sinclair believes the midweek win over Anderlecht was the perfect answer to Celtic's Champions League critics.
Sinclair says it was "very satisfying" to win on the road after criticism following the Paris St-Germain rout.
"We'll go into the next Champions League game against Bayern Munich high on confidence," he added.
"To win 3-0 away from home - and all the people who were saying we shouldn't be in the Champions League - and all the negativity around that, I think it is very satisfying," Sinclair said.
'Everyone writes us off'
"We always get criticised as a club for being in the Champions League. For us, we've got nothing to lose. Everyone writes us off but for us it's to go into every game with confidence and hopefully get results and pick up points along the way."
Celtic's win in Brussels means they joined Bayern Munich on three points and the victory boosts the Scottish Premiership outfit's hopes of securing European football after Christmas.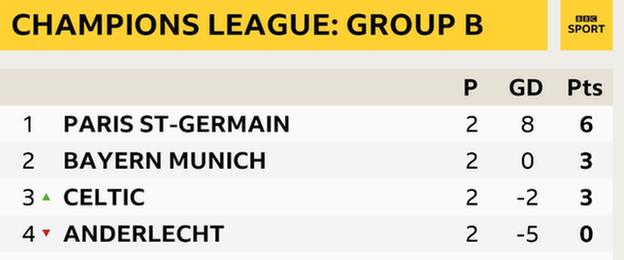 "We're still looking to get into second [place] but if we don't get through then the worst-case scenario is that we get into the Europa League," said Sinclair.
Bayern Munich have sacked manager Carlo Ancelotti but Sinclair is under no illusions as to the task they face.
"Well, they're a world-class team and for us, any sort of team we come up against in the Champions League are going to be tough," Sinclair said. "But when they come here at home, I think we have a chance.
"You do get the feeling, especially when a manger goes and the best players are unsettled, there are still world class players in that team that it probably won't affect and they move forward. Then a new manager comes in and they get on with things behind closed doors. For us, it's look forward and keep doing as well as we can.
"We don't want to be thinking about anything else other than the next game. I think we've been doing that ever since last year and sort of taking it game by game."
And Sinclair, who has netted 10 goals so far this season, is happy with is current form.
"I'm always looking to create and score goals; I feel better even than last year," he said. "It's about trying to take my game to another level and trying to improve every day, staying behind after training for 10 to 15 minutes to work on certain things."