Non-League Day: Football uniting communities to man's best friend
Last updated on .From the section Football
Football managers going the extra mile, dogs watching from the sidelines and communities uniting are all part of the eclectic tapestry that makes up Non-League Day 2017.
Saturday will be a celebration of everything from heartfelt to heart-warming in English football's lower reaches.
Scheduled to coincide with an international break, Non-League Day gives clubs the chance to showcase the importance of volunteer-led community football while giving fans across the country the chance to show support for their local non-league side.
BBC Sport takes a look at a selection of the stories, including:
A club in the North West looking to help a community unite after a hate crime

The manager running to support a cause in memory of his brother-in-law

The Cornish club flying higher than any before it

Why 35 football fans from the Netherlands are heading to North Ferriby

Dogs being made guests of honour at one non-league ground

Playing away from home like it's 1888
Football for all
When Dr Nasser Kurdy was stabbed in the neck on his way to a mosque in a suspected hate crime in Altrincham last month, the community reeled in horror.
The consultant surgeon survived the attack outside the Altrincham & Hale Muslim Association and has since said he has "forgiven" his attacker and feels "no negative emotions".
On Non-League Day, he has been invited to Moss Lane, home of Northern Premier League club Altrincham - one of a number of teams hosting a Fans for Diversity event supported by anti-discrimination group Kick It Out and the Football Supporters' Federation.
Kurdy's presence will be particularly poignant on a day when the club publishes an inclusion strategy, which includes plans to establish a prayer room, upgrade disabled facilities, and initiatives to encourage more women and young people to attend matches.
Jacqui Forster, the club's honorary head of inclusion and diversity, says the fixture is a chance to show how the community of Altrincham "embraces everyone".
"That attack was not in our name, it is not typical of Altrincham," she said.
"There are a lot of characters that support non-league football, all backgrounds, religions and genders are welcome. I hope what we are doing show that we are open to everyone."
Anwar Uddin, a former non-league player and manager who heads up Kick It Out's Fans For Diversity campaign, says Altrincham, like all non-league clubs, have a "real power to affect their community".
He explained: "With most non-league clubs, resources are very limited. You don't have staff that can do everything - getting three points on a Saturday, getting the best players, training the players, so everything around the inclusive part of the game at non-league level is very much a luxury.
"To have fans step up and to work with the club to do that is the most powerful thing. Fans make up our community, they are reflections of the local community and if they are prepared to do that, I think it says a lot about the club and community itself."
Going the extra mile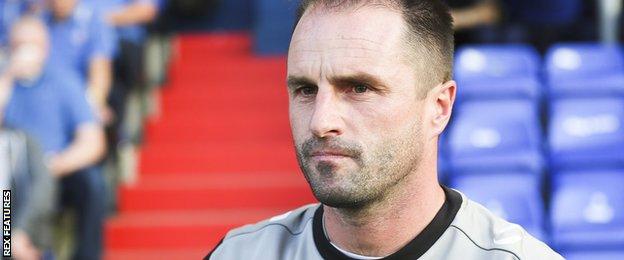 While a number of football matches will be the backdrop for important causes this weekend, there is one football manager taking his support for a very personal cause on the road.
On Sunday, Hyde United manager Darren Kelly is going out to run a marathon to raise funds for charity that supports those battling addiction.
He will be running in memory of murdered brother-in-law James Woodhouse.
"We've set ourselves up with a local charity called Changing Lives and it covers everything from addiction to recovery," he told BBC Sport.
"It's something very close to my heart because last year my brother-in-law James was murdered over a drug debt. When he was killed, we wanted to do something to ensure families don't suffer the way we suffered.
"Through that, I wanted to set two challenges. The first challenge was in September and it was a running challenge to run 100 miles but the big one is to run the York Marathon.
"We've got Cleethorpes on Non-League Day on Saturday and I said I'd run the York Marathon the day after."
After running 100 miles in September, you would think Kelly would be perfectly primed to conquer the 26.2 mile distance in York, but he is suitably modest.
He continued: "The training's gone well. As it stands I haven't gone past 13 miles in one run. I haven't got past that milestone yet but I think the adrenaline and my fitness will help me.
"I hope determination is going to get me to the finish line."
Cornish lads are footballers too...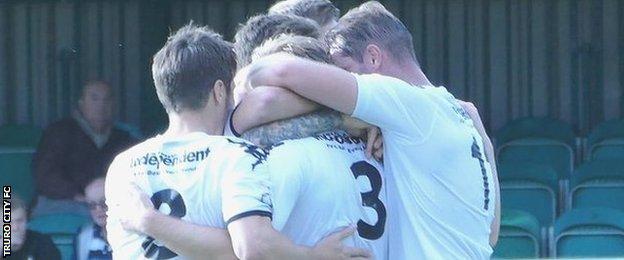 Now for a change of pace, turning attention to the feats of one far-flung club in England's South West.
If you have been a Truro City fan for the past decade or so, then you will have experienced more ups and downs than a ride on the Big Dipper.
In 2006, thanks to the backing of local property magnate Kevin Heaney they were promoted out of the South Western League - then Cornwall's highest level of football.
Three successive promotions and victory in the 2007 FA Vase - the first team to win a trophy at the new Wembley - followed and the club reached the Southern League, which they also won in 2011.
But then came the financial crash and Truro's bubble burst. Heaney was declared bankrupt, the club went into administration and were minutes away from being kicked out of what was then the Conference South before current chairman Peter Masters stepped in with fellow businessman Philip Perryman to save the club.
A relegation followed, but two seasons later they were promoted back to National League South and this season are flying - in fact as league leaders, they are in the highest position that any Cornish club have ever been in the English football pyramid.
After eight successive wins, they face Hampton and Richmond Borough on Saturday - who they will also face next week as they bid to make the first round of the FA Cup for the first time in the club's history.
"It's brilliant at the minute," top scorer Cody Cooke told BBC Radio Cornwall.
"Another win at the weekend made it eight in a row and I don't know how many of the teams around us have done that before."
A European away day to... the banks of the River Humber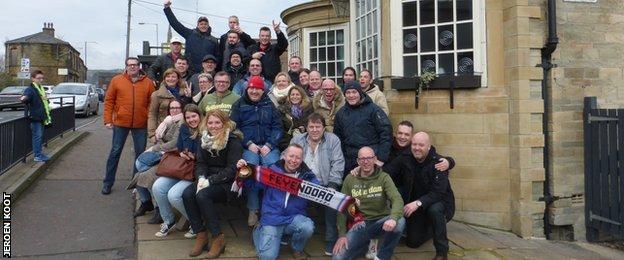 When one Feyenoord fan and his football pals were left without European away days to plan in support of their team a few years ago, they decided to get creative with their exotic fixtures.
There are regular trips to Germany and Belgium, and plenty to Yorkshire.
On Saturday, that one fan, Jeroen Koot, will be joined by 34 Dutch friends for their weekend trip to Grange Lane, home of North Ferriby United as they entertain FC United of Manchester in England's sixth tier.
"England is still like the promised land of football for us," Koot said. "A lot will travel from here to go to Premier League matches. It is also great for someone like me who loves lower league football.
"Most of us are Feyenoord fans, and a few years ago when there was a decline in European away trips we decided to look for other matches abroad, somewhere to do some groundhop trips with friends."
Saturday's visit to North Ferriby is the group's second attempt to get to Grange Lane, as a previous game was postponed. On that occasion, they settled on watching Hull City at home to Liverpool in the Premier League.
"It is not everyday that 35 Dutch fans come over to watch lower league football matches and you are made very welcome," he said.
"At Premier League matches, a group of fans from abroad is not such a big deal. The football is great, but you are one of the many.
"In England, with all the divisions and non-league teams, support and money at the bar is very important."
And at the bar, the Dutch travellers are sure to help out.
"When in England, of course you do as the English do," he joked.
Non-League dogs. Yep, it's a thing!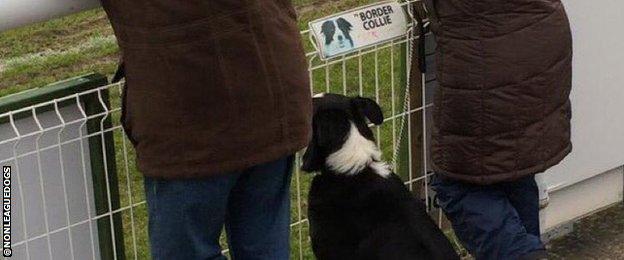 Many have heard of Roy of the Rovers, Britain's most famous comic book footballer, but this is the lesser known tale of Roy and the Rovers.
OK, there is no Roy but there is a Ruth and a whole lot of dogs.
Having a pooch with you to watch West Didsbury & Chorlton against Squires Gate on Saturday will get you reduced priced entry, for it is Non-League Dogs Day there.
Not only is North West Counties League football - England's ninth step of the football pyramid - on the menu at Brookburn Road, but also gravy bones and chew toys for the game's furriest of friends.
The canine delicacies will be provided by Ruth Bickerstaffe, an AFC Fylde fan and self professed hound obsessive, who founded the social media hit that is @nonleaguedogs.
With 7,000 followers across Twitter, Tumblr and Instagram there are plenty of cute - and a number of perplexing - dog pictures to wade through. Oh, and it is a global thing!
"I absolutely love receiving photos on match days from all over the country and sometimes from all over the world," said Bickerstaffe.
"I retweet or repost all the photos I get and last year I had so many they kept me going over the summer break, only just finishing in time for the start of pre-season friendlies.
"West Didsbury & Chorlton have always been a very dog friendly club and their canine support seems to be getting bigger and bigger every year.
"They have wanted to tie in Non-League Day with a @nonleaguedog day for a while but their fixtures have never fallen in their favour until this year. They told me they were doing it so obviously I just kind of invited myself and then started stocking up on balls and treats to take with me."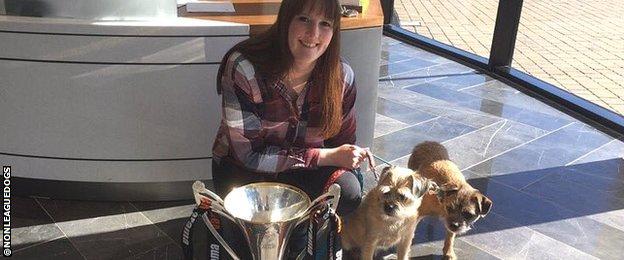 For Bickerstaffe, it is all a labour of love... and even proved the platform for romance.
"I started taking my own dogs, Border Terriers Lou and Sid to AFC Fylde, at the old ground Kellamergh Park, during the 2011-12 season and started taking pictures. A colleague and fellow non-league fan showed me some pictures he had taken at various games and I realized this could be a 'thing' and opened up a Tumblr and Twitter account. The colleague [Richard Bishop] is now my partner."
Over the years, snaps of hundreds of dogs have been shared. There are plenty of regulars, and some who have become well remembered old friends.
"I have watched dogs grow up over @nonleaguedogs, notably Luna, the Scottish groundhopping golden retriever who sent me a photo from her first ever game and who now has 64 grounds under her collar," Bickerstaffe said.
"With that though comes the loss of my older regular dogs and earlier this year Dulwich Hamlet lost Doris, the faithful whippet who had been featured since the very beginning. She has now been immortalised with a mural at the ground and her owners requested the club name her favourite bin, by the burger bar, after her."
Going over old ground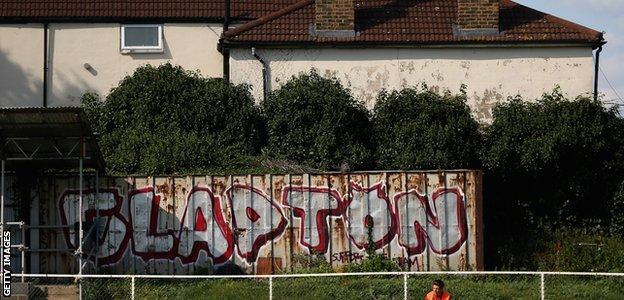 And finally, keeping with the dog theme it is impossibly not to segue into a tale about the Old Spotted Dog Ground - football's oldest senior football ground in London.
Clapton FC have called it home since 1888 and for Non-League Day they are away to Hackney Wick... the side with which they share the ground.
On the subject of old grounds, Maidenhead United are also worthy of a mention on account of their home, York Road, being recognised by Fifa as "the oldest senior football ground continuously used by the same club" in the world.
The Magpies have been playing on the same site since 1871, a record-breaking 146 years.
They are a club with a long history, having been one of the original 15 entrants for the first FA Cup in 1871-72, and even reached the last four of the competition the following year.
But the 4,000-capacity stadium has played host to some of the most momentous games in its history in recent months, after the club reached the National League, their greatest achievement in the modern era.
Led by the flat-cap wearing Alan Devonshire, an FA Cup winner with West Ham in 1980, they have been the shock package of the division so far. Their semi-professional players have stunned former league teams Hartlepool and Tranmere, and knocked then table toppers Sutton United off their perch too to leave them amongst the play-off chasing sides in the fifth tier with a quarter of the season gone.
Additional reporting by Brent Pilnick, Jay Freeman and Adam Whitty.