Hibs' Neil Lennon good enough for Premier League, says Celtic's Brendan Rodgers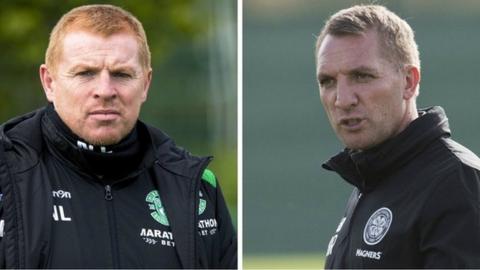 Brendan Rodgers says it was a surprise "brilliant" Hibernian head coach Neil Lennon did not win himself a job in the Premier League after leaving Celtic.
Lennon eventually joined Bolton Wanderers in England's Championship.
"Without being disrespectful, when he went to Bolton, I was a bit surprised, because he's definitely a Premier League manager," said Rodgers, whose Celtic side host Hibs on Saturday.
"I felt he has the qualities to manage there."
The present Celtic manager thought Lennon, who won the title three times and the Scottish Cup twice as team boss in Glasgow, might have replaced David Moyes as his derby rival on Merseyside.
"When he moved on, I was at Liverpool at the time and Everton were looking for a manager when I think David left for Manchester United," Rodgers recalled.
"I thought at that time that a perfect candidate would have been Neil Lennon.
"He'd managed a big club and, when you manage Celtic, with the expectations here, you can manage any club."
Lennon kept cash-strapped Bolton clear of relegation in his first season but was sacked near the end of his second with his side at the bottom of the table.
Back in Scotland, Lennon led Hibs to the Championship title last season and his side presently sit fourth in the Premiership, seven points behind Celtic.
"It didn't work out at Bolton, but you can see the way he's reinvigorated Hibs," said Rodgers.
"He's got a winning mentality and a love of the game.
"I have a huge regard for him. I think he's a brilliant manager, I have a lot of time for Neil and respect for him.
"The job he did here, firstly as a player, he was a fantastic player. He was one of those players every team needs, he does the dirty work, lets the others play. He was an outstanding footballer who had a great playing career here at Celtic.
"To then move into becoming the manager here, having the four years he had here and the success he had here, was absolutely magnificent."
Rodgers has no concerns about striker Leigh Griffiths revealing that his love for former club Hibs will prevent him from celebrating should he score on Saturday.
"Let's see if he's playing first," joked the Celtic manager. "If a player scores and he celebrates, great, if he doesn't, so what?"
Rodgers added that "it's okay" if "some players have had a love for a club" and believe it would be "disrespectful" to celebrate.
"It's not the end of the world," he said. "I won't lose sleep over it."