Celtic: Peter Lawwell says club 'probably' in strongest ever financial position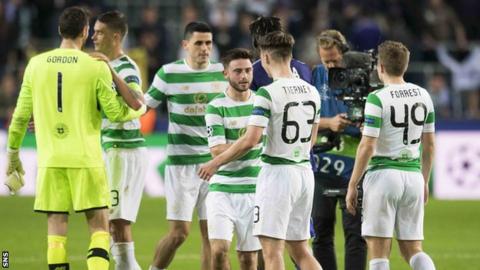 Celtic are reaping the benefits of a long-term financial strategy, according to their chief executive Peter Lawwell.
The club's revenue increased by 74.2% to £90.6m for the year to 30 June.
"If you look at the balance sheet we are probably in the strongest position we've ever been," he told BBC Scotland.
"We feel that the strategy we've employed for a number of years is working. In football, if you react to short-term issues, you lose. It appears to be paying off for us."
Celtic's involvement in last season's Champions League accounted for a very large chunk of Celtic's dramatic rise in turnover.
In this year's campaign, Celtic have again reached the group stage and, speaking the day after Celtic beat Anderlecht 3-0 in Brussels in Group B, Lawwell praised the work of manager Brendan Rodgers, who has led the team to 57 domestic games without defeat and who will prepare his players for a double-header against Bayern Munich in October.
"I thought it was a very mature, European performance by the lads and a thoroughly deserved win against a decent side," said Lawwell.
"Our supporters demand that we perform in Europe.
"Brendan has done an unbelievable job developing the team. We have that unbeaten record with us but we always look towards Europe, we always want to get better and maximise the potential of this great club.
"For me he is an outstanding manager. He's the full package. He's an amazing coach. He's got the lot for a young, modern-day European manager."
Celtic's interim results for year to 30 June 2017
Group revenue increased by 74.2% to £90.6m
Operating expenses increased by 33.3% to £76.3m
Gain on sale of player registrations of £2.3m (2016: £12.6m)
Profit before taxation of £6.9m (2016: £0.5m)
Year-end cash net of bank borrowings of £17.9m (2016: £3.6m)
Investment in football personnel of £13.8m (2016: £8.8m)
Continental competition after Christmas
With Paris St-Germain favourites to top the group, Celtic have a chance in the games against the German champions to fight for second place and, with it, a place in the last 16.
If not, their resounding win in Belgium means they are in a strong position to finish at least third and move into the Europa League knockout phase early in 2018.
That, though, depends on Anderlecht failing to pick up points against PSG or Bayern Munich, and not beating Celtic by four goals in Glasgow.
"You never know. Let's see where we end up," said Lawwell of Celtic achieving Rodgers' target of European football after Christmas.
Asked if finishing above the Bavarian giants was far-fetched, he replied: "It's not ridiculous. It's going to be extremely tough. We'll take each game as it comes."
Meanwhile, he welcomed the "good news" that provisional planning permission has been granted for the club's proposed hotel development around Celtic Park which he hopes to take forward in the next couple of years.
"We're committed to developing Celtic Park, developing the east end of Glasgow for the benefit of everyone, not just our supporters," he said.