Paul Clement: Swansea boss blames late transfers for slow start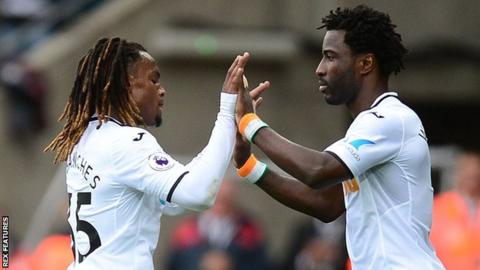 Head coach Paul Clement believes Swansea City's late transfer activity is behind their poor goal-scoring start to the season.
The Swans have scored just three goals and have had only 10 shots on target, the lowest in the Premier League.
Clement accepts that their play going forward needs to improve but has urged for patience to allow his squad to gel.
"We are working on that and I fully believe we are going to keep improving in that area," Clement said.
"The fact that there were so many ins and outs has had an impact on us in the early part of the season.
"The more this team train together and play together the better they're going to get."
In a busy summer at the Liberty Stadium, striker Wilfried Bony and highly-rated Portuguese midfielder Renato Sanches both arrived on deadline day.
However, playmaker Gylfi Sigurdsson was sold after the Premier League restarted and last season's top scorer Fernando Llorente was also sold on deadline day.
"If you look through some of the players that came in and use Wilfried [Bony] as an example, he hasn't played regular football for a couple of seasons so that match sharpness is going to take a bit of time to come back," Clement explained.
"Renato [Sanches] is in a similar situation. He didn't play regular football last year, he's come to a league where the intensity is much higher and the culture is different.
"Roque Mesa is adapting to a new league, all these are examples of players that are playing minutes for us and just need that little bit of time to get up to speed."
Play Leon Britton?
Swansea's difficult start to the season has led to criticism from pundits as well as fans.
One supporter posted on social media claiming he'd sent Clement a letter after the home defeat to Watford which included the sentence 'play Leon Britton' repeated for four sides of A4 paper.
This is after Clement received a 'Keep calm and play Britton' mug last season. Clement has not selected Britton since the first game of this season.
Clement though is adamant that his team selection won't be swayed by any outside factors.
"No, I haven't received a letter," he revealed.
"But I've still got the mug on my desk, I keep my pens in it. It's a reminder of that great time we had at the end of last season.
"I've been around football long enough, both as a manager and as an assistant, to know that you have to make the decisions.
"I've got enough people around me who will help me with that decision-making process but I know very much that I make those decisions.
"So whether it be a mug, or a letter, or a comment in a newspaper both national and local, that makes no difference to me what they say. At the end of the day, I have to make those decisions.
"Leon is a very good player. He's a good leader, good human being, he's great around the training ground.
"He still will contribute for this club, whether that's this weekend or not we'll wait and see."