Aberdeen unbeaten but yet to reach peak, says Greg Stewart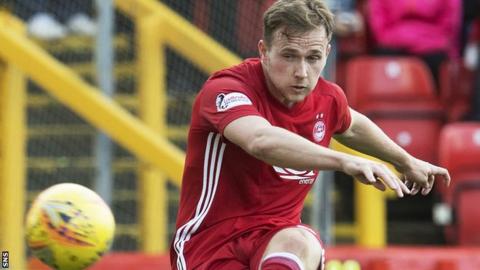 Aberdeen have yet to taste defeat in the Premiership this season but there is room for improvement, according to forward Greg Stewart.
The Dons sit second in the table with five wins from seven outings, two points behind leaders Celtic.
St Johnstone, in third place, visit Pittodrie on Saturday and Stewart, 27, is looking to pull away from the chasing pack.
"I wouldn't say we've hit our peak yet, we can still get better," he said.
"There are a lot of new faces and we're still trying to gel.
"We're not playing our best but we keep winning games which is not a bad habit to get into.
"This weekend is massive. If we get another win going into the next (international) break, we can stay close to Celtic and maybe create a gap between us and the rest of the teams."
Stewart has started three league matches since joining on loan from Birmingham and admits he is not satisfied with his own form.
"There's a big squad here," said the former Dundee and Cowdenbeath player. "When you go to a big club, that's what it's all about.
"You need to fight for your place and if you don't take that chance you find yourself on the bench.
"It's been a bit frustrating for me. That's maybe down to myself; I can do better but, as a team, we've done well."
The Dons will be without Greg Tansey for the next four weeks, with the midfielder recovering from the groin operation he had on Wednesday.
The 28-year-old could only last 56 minutes in last weekend's 1-0 victory at Motherwell.
"We were hoping to squeeze another game out of him," said manager Derek McInnes.
"But he was really struggling at half time in the last game and it was impeding his mobility."