Premier League clubs split on change to overseas TV rights payments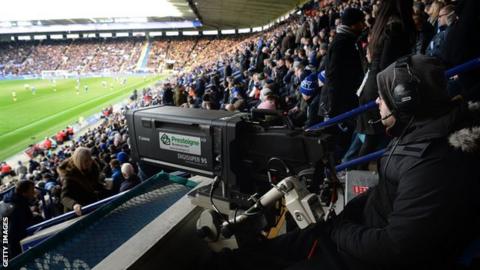 Premier League boss Richard Scudamore has embarked on a week of lobbying in a bid to heal a split between clubs over the distribution of the next round of multi-billion pound overseas TV rights.
It comes ahead of a meeting of all 20 clubs next Wednesday in London.
Under pressure from the six richest clubs, the chairman has proposed ending the equal sharing of international broadcasting income.
The £3bn overseas deal for 2016-19 generates £39m a year for each club.
Scudamore presented his plan - which would see 35% of the revenue divided according to league position - to the other 14 clubs on Wednesday, but it has been met with resistance.
With new contracts for some international markets for 2019-22 already done and showing significant increases in value, the so-called 'Big Six' - Manchester United, Manchester City, Arsenal, Spurs, Liverpool and Chelsea - want their greater global popularity reflected.
They are also understood to feel that the domestic TV market, currently worth £5.1bn, may have reached saturation point. It is also thought that some were 'spooked' by Leicester City's surprise Premier League win in 2015-16.
However, with the approval of 14 clubs needed to make such a change to the system (the first since 1992), Scudamore has his work cut out to broker agreement by next week.
The league is keen to reach a compromise before going into domestic rights negotiations, where worries over what the 'Big Six' could do next - if they are blocked - could create uncertainty.
Speaking at a news conference before his side's trip to West Ham this weekend, Swansea manager Paul Clement said: "I'm sure the top six would like that because they'll get a bigger slice of the pie but there are 14 other teams who want to be competitive. If the league's going to be competitive, the money needs to be evenly distributed."