Valeri Belokon: Football League disqualifies former Blackpool director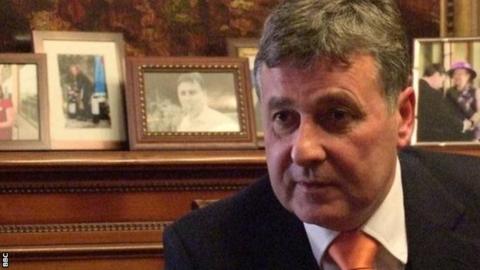 Former Blackpool director Valeri Belokon has been disqualified by the English Football League under the Owners' and Directors' Test.
The Lancashire club has been informed of the decision regarding Belokon, who was convicted and given a 20-year jail term in Kyrgyzstan for "money laundering, tax evasion and dishonesty" in his absence in May 2017.
Belokon, 57, nominated Normunds Malnacs to replace him as president after he resigned in August but that appointment is now ineligible.
Blackpool have also suspended Belokon's representative Kaspars Varpins, who is also ineligible to take a place on the board under the EFL's regulations.
The Seasiders' statement said: "The club's board will discuss the composition, and likely strengthening of the board, at the next scheduled board meeting.
"It is likely that at least two new board members will be invited to join the board of BFC.
"The club's board is committed to continuing the recovery of the club's fortunes on the pitch and will not allow any distractions to adversely influence the fantastic work of the manager, coaching staff and players."
In a statement to BBC Radio Lancashire, Belokin said he "respects and understands the decision of (the) EFL, since it should be based on certain rules and procedures".
He added: "I have already left the director's post and announced about it a month ago, believing that it would be more beneficial for the development of the club."
Belokin also said he would be challenging the court ruling in Kyrgyzstan.