Hearts: Kyle Lafferty can get back to best form - Craig Levein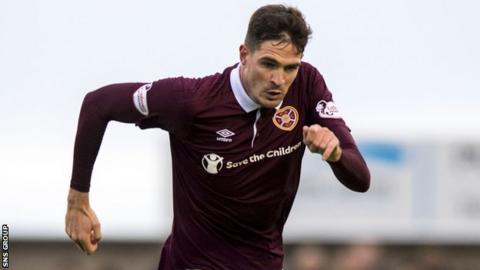 Craig Levein admits Hearts did not know the scale of Kyle Lafferty's gambling problems when signing him - but says it would not have altered the decision.
The Northern Ireland striker opened up on his addiction in a BBC Scotland interview this week.
Manager Levein and owner Ann Budge have vowed to assist the 30-year-old.
"Would it have put us off signing him had we known beforehand? That's a tough question, but I don't think so," said Levein.
"We obviously did background checks," added Levein. "Yeah, maybe there were some things [indicating] he liked a bet, but it wasn't at the forefront of our thoughts when he joined.
"It was only four or five weeks ago that he approached [assistant manager] Austin MacPhee and explained the situation he was in.
"Since then we've done everything we can to help him. He needs to help himself, but by going public he's shown he's serious about it.
"Looking at it purely from a football point of view, he has had these problems for ages and, credit to him, he even managed to play at the Euros while it was going on, which I just find remarkable."
Lafferty has scored six goals in 11 appearances since moving to Tynecastle in the summer.
"For his sake we hope he can rid himself of the addiction," added Levein. "But if he can do that and feel good about himself then I'd guess his performances on the park will improve as well.
"I imagine it would be a weight off his shoulders now. He's a human being. If he's got these worries in his head it must have an effect.
'Gambling is a societal problem'
"He's quite a jovial character, but even if you don't see the impact on the surface it must be affecting him inside.
"It's a terrible addiction, but we're all hopeful he can overcome it. He's certainly approaching things with the right attitude now."
The relationship between Scottish football and the gambling industry has been under the spotlight following several cases involving players infringing strict rules prohibiting betting on matches.
All three major domestic competitions are sponsored by bookmakers' firms.
"It's a societal problem, but blaming the gambling companies for it is like blaming the drinks companies when people become alcoholics," said Levein.
"That's a dangerous road to go down.
"I don't want to get into the politics of it or speak about sponsors. For us as a club, it was just about making sure Kyle got the support he needs to get better."