Celtic put confident foot forward with assured Champions League victory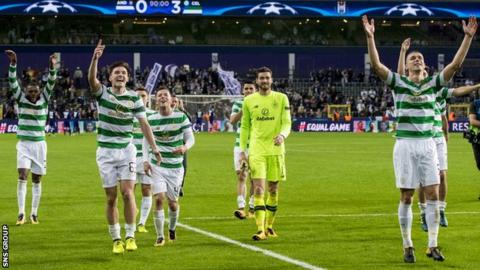 In the wake of Celtic's resounding victory in Brussels on Wednesday there was a surreal air around the Constant Vanden Stock Stadium.
The home fans drifted away muttering dark thoughts about where, and why, it has all gone wrong for them in the five months since they pushed Manchester United to the wire in the quarter-finals of the Europa League. The visitors, meanwhile, whooped it up in a near hypnotic state that wasn't solely down to the rocket fuel they'd been guzzling all day.
Celtic fans have a well-established routine on away trips such as this. They turn up in massive numbers, they party, they go through varying degrees of footballing torture and then they go home.
With the occasional heartening draw thrown in here and there this has been the way of it for half a decade. Their gamut of emotions has stretched from A for angst to B for beaten and not a lot besides.
Brussels was joyously different for them, a gob-smacking end to the norm. In those opening 25 minutes, when Celtic had a startling inability to pass the ball from one green shirt to another, there was little hint that something significant was going to happen.
It had the appearance of just another humdrum night on the road. Maybe a battling draw but with the possibility, if not probability, of a wearily familiar defeat.
That opening goal was a kick to the solar plexus of the Belgians. It was by turns an illustration of Celtic's character in raising themselves about the disappointment of their poor beginning and their class in executing a move with a rapid fire ruthlessness. Olivier Ntcham to Kieran Tierney to Leigh Griffiths; as precise and as clinical as can be.
If this was a boxing match, then this was a knock down that Anderlecht never fully recovered from.
They got up off the canvas but they weren't the same. The contest changed in the seconds it took to score that goal. Celtic became comfortable and dominant. Anderlecht became dazed and doubtful.
When Celtic scored a second - hard-pressing causing the spontaneous combustion of the home defence - the game was up.
No Champions League group match has ever been so easy for them. No Europa League group match either.
Even before Scott Sinclair took what was left of Anderlecht's spirit and snapped it over his knee in the closing seconds, we were thumbing the record books to try and give this victory its rightful place in Celtic's recent European story.
Brendan Rodgers' team secured a first away win in the Champions League in five years and a first win in a group game in the Champions League or Europa League in three years, home or away.
The night was kick-started by Griffiths' first goal in a Champions League group match and rounded-off by Sinclair reaching the same milestone. When the final whistle went it confirmed Celtic's first ever away clean sheet in this competition and their biggest ever victory.
Much has been said about the heart of Celtic's defence this season and their inability to sign back-up at centre-half. It's been a gamble and the risk continued in Belgium.
Rodgers didn't have one natural defender on his bench. He didn't need one, of course. Dedryck Boyata was a rock and Jozo Simunovic looked a better operator for having Boyata alongside him. In his home town, Boyata emerged as a leader.
Anderlecht were as vulnerable as Celtic hoped they would be. It's fair to say that the Belgians are a poor side, but you can't downplay what happened on that basis. Celtic have lost to many poor sides in recent times. They've come up against teams who have been teetering on the brink of crisis only to fall in a heap at their feet.
Celtic have almost cornered the market in making a hash of nights like Wednesday, of seeing an opportunity against beatable opposition and then blowing it. Legia Warsaw, Maribor and Molde are the marquee failures that will not be forgotten, but there's been others.
That's why this one was so intriguing. The feeling was that Rodgers had put his team into a better place but this was the acid test. Not PSG and not Bayern Munich, but Anderlecht, a club with no financial advantage over Celtic, no superstars and not a lot of confidence.
The job was done emphatically. The validation that all observers of Celtic's progress in Europe were looking for was duly delivered.
On and off the pitch it was a bonanza. They'll get £1.3m for beating Anderlecht and because they beat them so handsomely they're now roaring hot favourites to make the Europa League, at worst, after Christmas, which will bring more cash and feelgood and more opportunities to test themselves.
Celtic bask in their own dominance at home, but it's the high-wire act in Europe that means most to them now.
Certainly it meant a lot to Rodgers. He was, if anything, low-key afterwards. He called his team "outstanding" but didn't ignore those troubling moments early on. His vibe spoke of calmness and not giddiness.
The word so often used about Rodgers is authority and he had it here. He kept a firm lid on his emotions but this must have meant a huge amount to him on a personal level. This was his first group stage win as Celtic manager and only his second in 14 attempts including his season in the Champions League with Liverpool.
Seventeen matches had passed since Celtic won away in the group stage of either European competition. Tierney was 15 when Spartak Moscow were beaten 3-2 in October 2012.
Neil Lennon was manger back then and the spine was Fraser Forster, Kelvin Wilson, Victor Wanyama and Gary Hooper. Times have changed. That was a fine Celtic team that went on to produce a classic win over Barcelona on their way to the last 16.
This one is building and Wednesday was unarguable proof of it.