Adrien Silva: Fifa asked by the FA to ratify £22m transfer to Leicester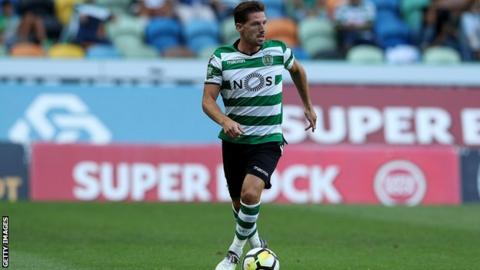 Fifa has been asked by the Football Association to ratify Adrien Silva's transfer to Leicester City.
The Foxes agreed to sign the Portugal Euro 2016 winner from Sporting Lisbon for £22m on 31 August, but they missed the deadline by 14 seconds.
Silva's registration was not completed in time with Fifa, and the midfielder has since returned to Portugal.
"The FA has requested the International Transfer Certificate (ITC) be authorised," said a Fifa spokesperson.
Fifa withheld the ITC for the Portugal international, and without it, Silva will not be registered as a City player until the next transfer window opens in January.
A decision from the Players Status Committee is usually issued within 30 days of a valid request, meaning the issue could be resolved by the end of October.
But speaking at a news conference on Thursday, Leicester manager Craig Shakespeare said he had no idea how long the Silva appeal would take, adding "no-one can give me an answer."