Ross County: Owen Coyle 'ambitious as ever' after being appointed manager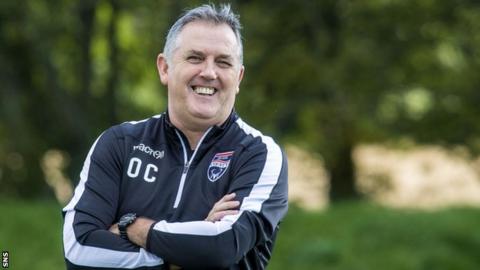 Owen Coyle says he is "as ambitious now as the first day I started" in management after being named Ross County manager.
The 51-year-old, who has signed a two-year deal to succeed Jim McIntyre, said his relationship with chairman Roy MacGregor was an important factor.
"It was important for me that I had that relationship with the owner/chairman," he told BBC Scotland.
"When I've had that relationship at clubs, we've been really successful."
County sacked McIntyre on Monday, bringing his three-year reign to a close with the Dingwall outfit sitting third bottom of the league after seven games, a point above Partick Thistle and Kilmarnock, who they face on Saturday.
Coyle last managed Blackburn Rovers, departing in February following a turbulent eight-month spell. He has previously been in charge of St Johnstone, Burnley, Bolton and Wigan.
Before his time at Blackburn, the former Republic of Ireland striker managed in the United States with Houston Dynamo.
'A bit of a dream' for Staggies chairman
MacGregor told BBC Scotland that he felt Coyle's values and ethics "are very much in line with where the club is".
"I hope that will rub off on everyone about here and we'll rub off on him and we'll begin to see results," said the chairman.
"To think that Owen is here today is, for me, probably a bit of a dream.
"He turned down Celtic, he's managed three or four Premier League clubs in England, he's managed in Scotland.
"It's ambitious but it's ambitious for him as well because he's coming back to Scotland from a higher level to a community club and he wants to be here."
'Good core values'
As a manager, he took Burnley up to the Premier League via the play-offs in 2009.
Asked about what attracted him to the post, Coyle said: "I know the club, because I've been here as a player. And I know how much it's improved both on and off the park.
"I've been here as a manager at St Johnstone and obviously, the big thing is that I know [chairman] Roy MacGregor very well from my time here and we've always kept in touch.
"We've exchanged a message every now and again and what have you. When you've been to a club, you always take a vested interest in it. So, I've always been delighted to hear about how it's been improving.
"There have been some terrific managers and good people here as well. When Roy called me on Monday afternoon and asked whether I'd be interested in it [the job] then, of course, I thought: 'yeah, of course I would'.
"Because, what I've said, and I'm on record as saying this, I felt that the next challenge for me, that it was important for me that I had that relationship with the owner/chairman."
Coyle will be joined in Dingwall by Sandy Stewart, who has been his assistant manager at all of his previous clubs.
"People might think that it's not the biggest club in the world but it doesn't have to be," Coyle added. "There are really good people here; there are good core values and principles that maybe a lot of big clubs don't have, but they have them in abundance here.
"And that was a big attraction for me. I'm as ambitious now as the first day I started. I want to come here and do really well for Ross County and show that we've got a good team, and have a team that is reflective of the support and the community. And I think we can do that."
Coyle seeking 'winning habit'
Coyle said he would assess the squad in the coming weeks and months, stressing that the players would given the opportunity to help the club to climb the Premiership table.
"I think there are some good players here and we need to ensure we get the best out of them," he added. "The club have lost six of their last seven games and drawn the other; we've not won at home yet in the league this season. So, those things, we'll try to change.
"Will it be difficult? Of course it will. Winning habits are good habits; when you lose then that [also] becomes a habit. So, that's what we need to do but we need to be fair and assess the squad we've got.
"It'll be a fair fight: if you're good enough then you'll play in the team and the onus is now on the players to show their quality and look to try to stay in the team."