Harry Kane can become Tottenham's greatest striker - Glenn Hoddle
Tottenham's Harry Kane can become the club's "greatest striker", says White Hart Lane legend Glenn Hoddle.
Kane scored a hat-trick as Spurs beat Apoel Nicosia to maintain their 100% Champions League record this season.
The England international, 24, has now scored six trebles in 2017 and 11 goals in seven games this month.
When Kane was asked about Hoddle's comments, made on BT Sport, he said: "It's great praise. I've just got to keep doing what I'm doing."
Midfielder Hoddle played 490 times for Spurs between 1975 and 1987, scoring 110 goals, before returning to the club as manager in 2001.
Kane is 14th in Tottenham's all-time list with 108 goals in 173 games, 158 behind the club's record scorer Jimmy Greaves.
Bobby Smith (208) is the only other player to score more than 200 goals for the north London club, while Martin Chivers' 174 goals between 1968 and 1976 places him third on the list.
Jermain Defoe, Teddy Sheringham and Robbie Keane are all ahead of Kane, but he has passed the totals of other big names - such as former England striker Gary Lineker and German World Cup winner Jurgen Klinsmann.
Kane made his Tottenham debut in 2011 and has scored at least 20 goals in each of the past three Premier League seasons, including 29 goals in 30 games last term.
Spurs manager Mauricio Pochettino, who joked earlier this week that he was "in love" with Kane, said after Tuesday's hat-trick that the striker has "unbelievable skills" in front of goal.
"He is something special - a killer. It is a special skill," the Argentine added.
Premier League players - goals in all competitions in 2017
Player
Goals
Games
Harry Kane, Tottenham
34
30
Sergio Aguero, Manchester City
24
33
Romelu Lukaku, Everton & Manchester United
24
28
Dele Alli, Tottenham
18
34
Alexis Sanchez, Arsenal
17
33
Son Heung-min, Tottenham
15
34
Jamie Vardy, Leicester
15
30
Joshua King, Bournemouth
15
25
An incredible year
Kane's treble in the 3-0 win over Cypriot side Apoel Nicosia was his ninth of his Spurs career - and a sixth of a productive 2017.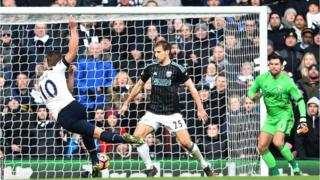 January 14 2017: Kane scores three in 4-0 win over West Brom - his first hat-trick since 2015
'Good enough for Barcelona or Real'
Former Scotland striker Ally McCoist on BBC Radio 5 live
"Harry Kane is absolutely remarkable. The past two or three years he has been phenomenal.
"Sergio Aguero is a terrific striker, Alvaro Morata is on fire, Romelu Lukaku has power and strength - but at this moment in time I would go with Harry Kane over them all.
"He is good enough to play with Real Madrid and Barcelona, but I'm not sure he looks like their type of centre-forward.
"Barcelona don't really play with an out-and-out centre-forward, they like to play down the channels and Real Madrid are similar.
"Kane is like an old-fashioned centre-forward and is a wonderful talent."
'He is incredible'
Tottenham defender Ben Davies, who was shrugged off the ball by Kane in the build-up to his third goal in Cyprus, said the striker's scoring prowess is not being taken for granted in the dressing room.
"We don't know what else to say about him at the moment. All the boys appreciate him," said the 24-year-old Wales left-back.
"He is just incredible. He needs just one chance, or even just one half-chance, to produce a bit of magic and score.
"As a defender it is brilliant when you have a striker like that in your team."