Peter Houston 'exploring other avenues' after Falkirk exit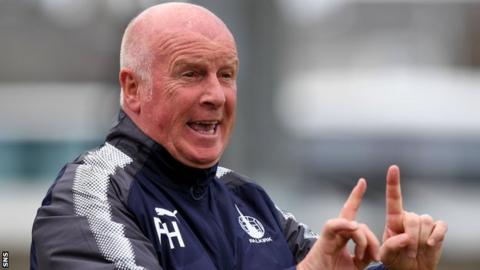 Former Falkirk boss Peter Houston is keen to continue working in football, but not necessarily in management.
Houston, 59, parted with the Bairns on Sunday after a poor start to the season, having taken charge in 2014.
He previously managed Dundee United and has been an assistant with United, Leicester City and Hearts as well as the Scotland national team.
"If I'm being perfectly honest I'd like to explore other avenues within football," Houston said.
"Whether it'd be back to scouting and things like that again.
"I had said to the board that this would be my last year. I'm 60 next year and I don't want to be managing when I'm 70 or 80. I think your health and your family's more important.
"I've dedicated a lot of time to football in that sense of being a manager and taken stresses and pressures home.
"I'm leaving my options very much open. I said Falkirk would be the last team I wanted to manage. I still stand by that. However, things can happen that I might change my mind if I've not got a job."
Houston, who won the Scottish Cup as United manager in 2010, feels he got "every single ounce of energy and strength" from the Falkirk squad during his tenure, having finished second in the Scottish Championship over the past two seasons, missing out on promotion in the play-offs both times.
The Bairns, who visit Greenock Morton on Saturday, finished above Hibernian in 2016 and in front of Dundee United last season.
"We punched above our weight for the last three years and the facts are there in black and white that we finished second twice against clubs we should never have been near," former Falkirk player Houston told BBC Radio Scotland's Sportsound.
"I certainly haven't got any axe to grind with Falkirk. Falkirk have done the whole thing properly.
"The last six weeks have been difficult. The results haven't been good enough. I'm the first to admit that. Thirty-six months before that has been good.
"Falkirk fans want to see a winning team. They were upset on Saturday [at the home defeat by Livingston], I totally accept that and it's my responsibility.
"We move. It's one of these things. I'm very disappointed. I'm gutted to lose it. It's a club who I have a lot of affection for.
"I wish them good luck. I don't want Falkirk to lose to Morton because I got the sack. I want Falkirk to win."